The Sturgis Brown softball team came out throwing haymakers against Rapid City Stevens on Thursday at Parkview Softball Complex.
The Scoopers opened the game with three straight singles, and Keely Heikes kept the hot streak going with a grand slam to straightaway center field that gave her team a 4-0 lead in the top of the first.
Stevens answered in the bottom-half with four runs on three hits to tie the game at 4-4 after one, but Sturgis added another run in the top of the second to move in front 5-4.
Raiders pitcher Nieva Colicheski settled in though as her team's offense exploded for 17 more runs to claim a 21-5 victory in four innings.
"When we got ourselves down, I looked the kids in the eye and said 'We need to compete, this isn't a gimme game,'" Stevens head coach Sherry Grismer said. "Every single game we play from here on out is important. We're putting a little pressure on them to be better; play better and compete…that's what they did."
The Raiders (8-6) racked up 15 runs on 10 hits and four errors in the bottom of the fourth to run away from the Scoopers.
The game marked senior night for Sturgis (1-12), despite playing on the road, because of the chaotic schedule shifting due to early season weather. The Scoopers recognized three seniors, Heikes, Haley Walker and Brooke Wolf, for their contributions to the program before the game.
"I've loved having these girls," Sturgis coach Kayleen Selfridge said. "I'm bummed I only get them for one season. They're all great leaders and bring a lot to the team…they show the girls what needs to be done. They've helped us have a building year with this program."
Sturgis returns to action Friday in a road matchup with Brookings at the Southbrook Softball Complex.
Bailey Kokesh led the way for the Raiders at the dish. She finished 3 for 4 at the plate with three RBIs, a walk and a solo home run in the fourth.
The first baseman said Stevens' top three in the lineup, Sadie Hunt, Tia Gease and Colicheski, make her job as the cleanup hitter an easy one.
"When they're on, I'm on," Kokesh said. "Everyone just kind of passes on that spark. It helped too that our season started in the indoor complex because all we could do was hit. We started hitting well really early and have just continued to grow with it."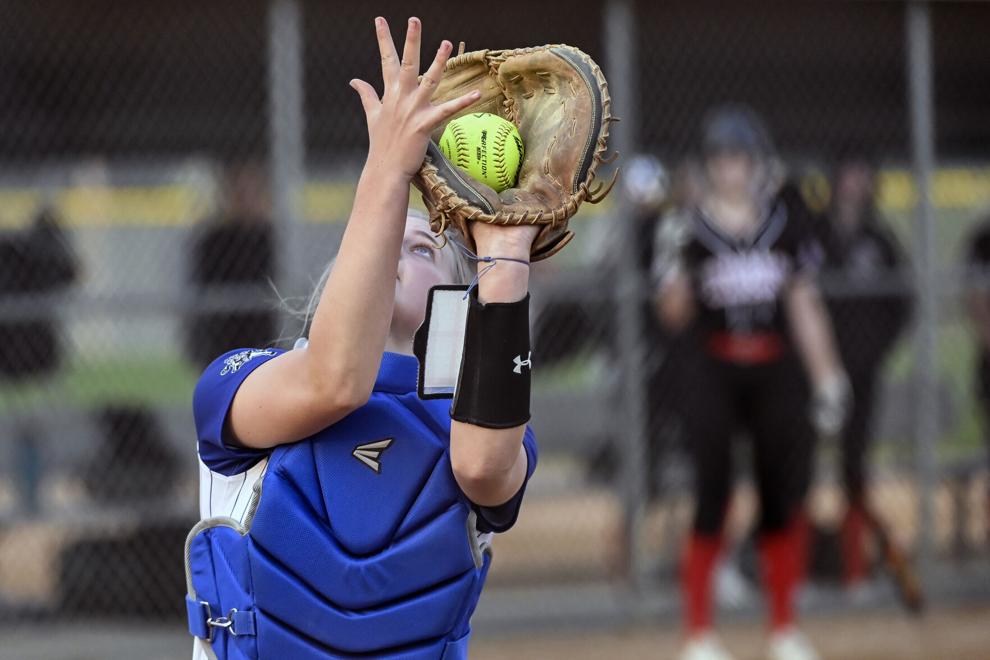 Colicheski and Kokesh hit back-to-back bombs for the third time this season in the top of the fourth.
Kokesh said following her teammate's homer with another is expected at this point in the season.
"I've got to hit one," the junior said. "If I don't, I'm still glad she hit one and I hope she's glad when I hit one. It's just kind of a back-and-forth thing at this point."
Colicheski earned the win in the circle in four innings of work, as she allowed five runs on nine hits with two walks and three strikeouts. The junior pitcher also went 3 for 4 at the plate with two doubles, two RBIs and a two-run homer.
Wolf suffered the loss 3 1/3 innings of work. She allowed 15 runs (four earned) on 13 hits with four walks and two strikeouts.
The Raiders return to action with a pair of road games this weekend. Stevens squares off with Mitchell on Friday at Caldwell Park and against Brookings on Saturday at Southbrook Softball Complex.
Stevens currently sits ninth in the Class AA standings with the SoDak 16 slated for Tuesday. Grismer said she wants to see her team kick it into high gear this weekend to potentially reach the eight spot or higher to host the state qualifier matchup.
"A win against third-ranked Brookings would be huge," she said. "It could be the difference in us having a home or away game (in the SoDak 16). We'd certainly like to play on our home field and in front of our home crowd, to give those seniors one last chance to play on a field they've played on forever."