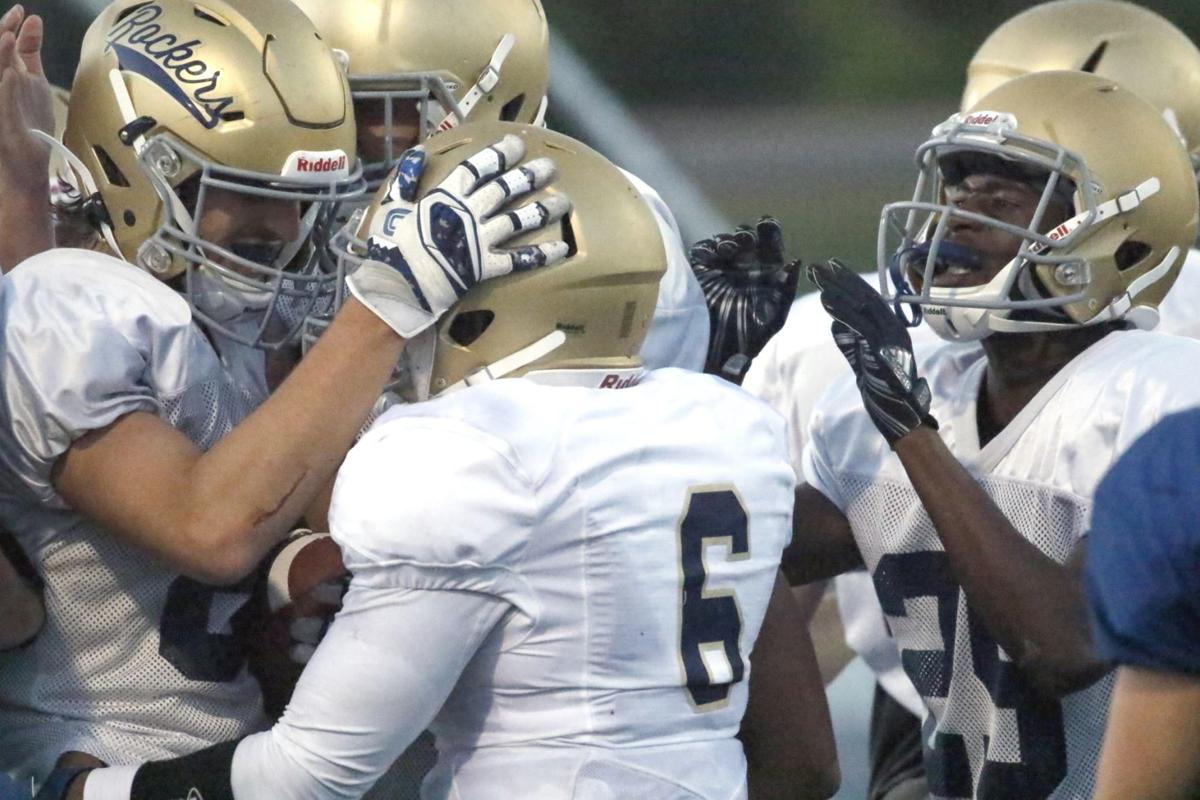 Thursday night was a bit of a dress rehearsal for the South Dakota School of Mines football team.
Beginning Saturday, it's the start of game week.
The Hardrockers begin in earnest for the season opener at home Sept. 7 against Colorado Mesa University. Thursday night's second full scrimmage of fall camp was basically a 90-play evaluation for many players.
"I think we found out about guys tonight, mostly good," Mines head coach Zach Tinker said.
Thursday night at Dunham Field saw the Hardrocker offense have the upper hand, led by the plethora of quarterbacks competing for the starting position, replacing all-league performer Jake Sullivan.
"One of the things that has been kind of tradition around here is when the offense gets a couple of first downs and they crank the tempo up, it is kind of hard to defend. You feel like it is coming at you in a wave," Tinker said. "The offense has really not been very careful with the football until tonight, so that was an improvement."
Tinker said that all of the quarterbacks — freshman Orlando Westbrook-Sanchez III, redshirt freshman McCoy Bila, sophomore Tobey Smith, redshirt sophomore Spencer Zur and junior Thomas Creese — played and all did some good things.
"We are closer to be competent at quarterback tonight than we were before we started," he said.
Mines junior wide receiver Collin Zur said they are confident, regardless of the quarterback.
"We've had a good quarterback battle going on between the five," Zur said. "Some days are better, but really good battles all of the way around the board. We'll see how this next week goes."
Collin Zur said it has been a good fall camp and the offense played well again Thursday night.
"We're pretty healthy and we've had some pretty good practices the last few weeks," he said. "We had some really good tempo. A lot of young guys showed up and got out there and showed what they can do. We've been rolling the last few weeks, getting the missing pieces back that we lost from last year and new players in role positions."
Senior defensive back Dominick Jackson said the Hardrockers have been taking steps slowly in progression defensively and offensively.
"We are making sure what guys are ready and what not," he said. "I think the biggest thing for us to make sure that we finish out, especially in the fourth quarter. That is something that we struggled with last year. "
Defensively, Jackson said he is looking for an improved season with a more experienced team.
"I feel like going from last season, we had a lot of young guys, a lot of young cats. We were very young but have a lot of experience coming back," he said. "I feel like we will definitely be prepared for the season."
With fall camp winding down, Tinker said he feels like they have a pretty complete team. He said there is not an area right now where he thinks they are glaringly bad.
"There are some areas where we still need room to grow," he said.
"I thought tonight when it was really going we got a little tired fast, which is good, though. It was a different time at night; they hadn't done a 6 p.m. practice all year. Some of their friends were here, maybe a couple of people they wanted to impress. You can see some of that anxiety."
Jackson said the biggest thing for the players is making sure they know their assignments. With Mesa the opener, it will be a good way to start their season.
"They are one of the top teams in the RMAC, so it is going to be exciting," he said.
Tinker said the opener against Mesa is going to be wide open, as two of the biggest question marks in the conference comes from both teams at the quarterback position.
"It's wide open. They are a lot like us. They were pretty special at quarterback and so were we," he said. "Who is going to be the quarterback for the Mavericks and who is going to be the quarterback for the Hardrockers? There will be a couple of nervous head coaches meeting at midfield next week."
The Hardrockers and the Mavericks kick off Sept. 7 at 1 p.m. at O'Harra Stadium.