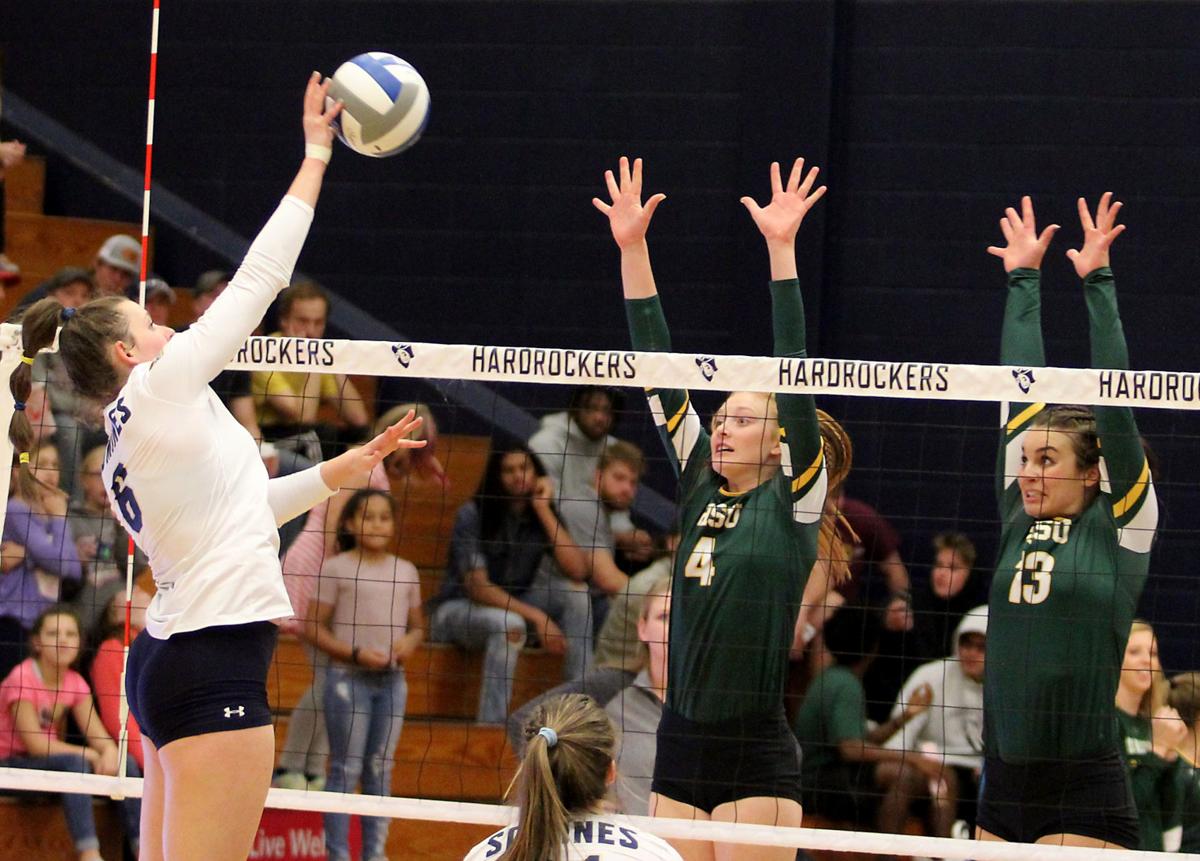 The South Dakota School of Mines athletic department celebrates a decade of academic excellence, as it has had a cumulative grade point average (GPA) of 3.0 or higher every semester since 2009.
Hardrocker athletics posted a 3.09 cumulative GPA for this past fall semester. The 'Rocker men's golf team had the highest GPA for the fall 2019 semester among all teams with an impressive 3.55 cumulative GPA.
"I am very proud of the men's team for how hard they worked in the classroom this last semester," said Mines golf head coach Luke Wheeler. "They have proven themselves to be quality scholar-athletes. They work extremely hard to manage their time between golf and their studies and it has paid off in the end. We set a goal at the beginning of the year to be at the top with their GPA's and they earned it. Overall I am very proud of all Hardrocker golfers and their commitment to their studies."
On the women's side, the Hardrocker volleyball team had the highest cumulative team GPA for the semester with a 3.41. The volleyball team also has the highest overall cumulative GPA in the entire department with a 3.5.
"I am extremely proud of our women for posting the highest female team GPA this semester and highest cumulative GPA," said Mines volleyball head coach Lauren Torvi. "It is such a huge testament to the guidance and standards set by our upperclassmen leaders as well as the work ethic that this entire group has. We recruited this team to fulfill a purpose and all 16 of these ladies exceeded the standards set forth by our program.
"We had 10 first-year scholar athletes average a 3.4 GPA for the fall semester with two of them earning a 4.0 and that accomplishment is not done without the culture our upperclassmen created through the offseason and this fall. I am thrilled to see this team continue to set high standards of success and know that their work ethic in the classroom will transfer to the gym."
Additionally, Mines scholar-athletes have had a higher cumulative GPA than the entire student body during this stretch. This record pertains specifically to the NCAA-governed athletics on campus.
Overall, 203 Hardrocker student athletes posted a GPA of 3.0 for the semester or have a cumulative GPA of 3.0 or higher. These 203 student athletes will be honored at halftime of the Mines men's basketball game on Friday when the Hardrockers play host to Chadron State in a Rocky Mountain Athletic Conference matchup.
Beagle wins again in Day Two of NSIC Championships
Augustana's Taylor Beagle picked up right where she left off on the second day of the NSIC Championships Thursday in Bismarck, N.D., winning her second event of the meet in the 400-yard IM.
The junior from Lead finished with a time of 4 minutes, 29.64 seconds, nearly three seconds ahead of the second-place finisher.
During the prelims earlier in the day, Beagle broke the school record along with hitting an NCAA "B" qualifying standard with a time of 4:28.34. Beagle won the 1,000-freestyle on Wednesday in NSIC Championship record time.
You have free articles remaining.
In the team race, St. Cloud State has taken the lead through 10 events with a score of 439 points. Minnesota State is second with 393 points as Sioux Falls is third while the Vikings are fourth compiling 275 points.
Friday's trials will begin at 9 a.m. (MT) with the finals beginning at 4:30 p.m.
No. 21 USD women roll to 12th straight win, 88-51
Hannah Sjerven scored 18 points with 11 rebounds and No. 21 South Dakota beat Western Illinois 88-51 on Thursday night in Vermillion for the Coyotes' 12th consecutive victory.
Taylor Frederick added 13 points and Chloe Lamb and Ciara Duffy 11 each with Duffy adding seven assists. Madison McKeever was the fifth Coyote in double figures with 10. Duffy has scored in double figures in 24 of 25 games this season.
The Coyotes (23-2, 12-0 Summit League), outrebounded the Leathernecks (13-12, 7-5) by 20 in beating the Leathernecks for the sixth straight time.
The Coyotes led by nine at halftime and outscored the Leathernecks by 14 in the third quarter, starting the period on a 14-3 run with eight points from Sjerven. A 9-0 run to start the fourth put the Coyotes ahead by 32.
Elizabeth Lutz made five 3-pointers and scored 18 points with five steals for Western Illinois.
Jackrabbit women fall to Pioneers
South Dakota State women's basketball team fell to Denver 72-62 Thursday night at Frost Arena.
The Jackrabbits fell to 18-8 on the season with a 10-2 mark in Summit League play, while Denver improved to 11-14, 5-7 Summit League.
Tylee Irwin led the Jackrabbits as she tied her season high of 14 points and added six rebounds. Paiton Burckhard also pulled down six boards while adding 11 points. Tori Nelson turned in 11 points and Megan Bultsma shot 80 percent from the field for a total of eight points. Rylie Cascio Jensen dished a team-best four assists.
South Dakota State wraps up its three-game homestand by hosting Purdue Fort Wayne in the 2020 #IPinkFor game on Saturday.