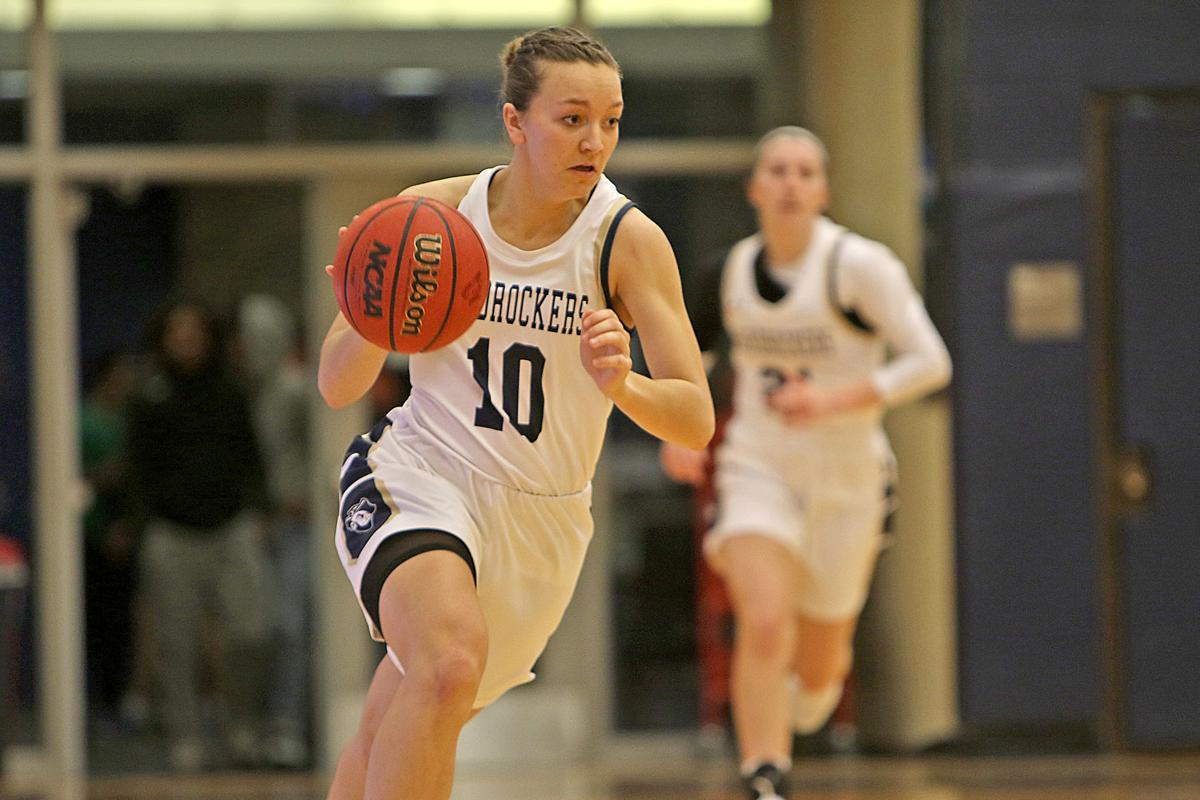 An overtime loss to Colorado School of Mines might have been the key to kick-starting the South Dakota School of Mines women's basketball team.
They haven't lost since, winners of five straight Rocky Mountain Athletic Conference games, and are now sitting in the top eight of the league standings.
In that game, despite losing in overtime 77-75, first-year head coach Jeri Jacobson said they had just one letdown in the second quarter, playing a solid second half. There, she said they realized that that game was the turning point for them and, "we can play great basketball, we just have to do it for all 40 minutes."
The Hardrockers, 8-7 in league play and 10-9, look to keep it going down the stretch as they try to get back into postseason play. They'll begin a four-game homestand Friday night with New Mexico Highlands (5:30 p.m.), before hosting CSU-Pueblo Saturday afternoon (4 p.m.).
"We talked about if we played like (like against CSU-Pueblo) for the rest of the season, we're going to having a lot of fun and really accomplish big things," Jacobson said.
Another key to having fun, Jacobson said, is they have a confident mentality and are playing well together.
"You want to be playing your best basketball at this time of the year," she said. "The goal for the whole season is to just improve every time we step out on the floor. Now that is all starting to come together."
Another key to the team's improvement and five-game win steak is execution on offense.
Sophomore Ryan Weiss leads the way offensively, scoring 16.4 points a game, which includes a big 33-point effort against Highlands two weeks ago. Senior Anna Haugen is also scoring in double figures at 10.9 per game, while senior Sami Steffeck is at 9.2, and freshman Naomi Hidalgo comes off the bench at 7.1.
"We have a couple sets and our girls are really starting to get the timing down on those," she said. "They all have confidence in themselves in knocking down their shots, and they have confidence in their teammates to knock down their shots. We're sharing well and that makes it hard when you are making up a defensive game plan for a team. If everybody is scoring pretty similarly, you don't know who to try to stop."
Defensively, senior Molly McCabe is the team's post stopper and junior Michaela Shaklee often guards the opponent's best guard.
Haugen, meanwhile, does the rest as she has been recognized twice this season as the RMAC Defensive Player of the Week. Haugen leads the team in rebounding at 9.7 per game, as well as steals with 28.
"Anna, no matter who she is on, she brings it," Jacobson said. "She just has an absolute knack of getting the ball off rebounds. She plays a huge part, but we use her in different ways to help our defense out because she is so long."
While the Hardrockers are on a roll, Jacobson said they know they can't rest on their laurels in the RMAC. It's all about taking it one-game-at-a-time for the final seven games.
You have free articles remaining.
"With this team they understand that in the second time around, the effort and heart, they have to really leave it all out there," she said. "That is one of the things I love about them is they have such great chemistry and they play for each other. They want to keep those four seniors playing as long as possible."
First up this weekend for Mines will be New Mexico Highlands (0-15, 1-19). The Cowgirls are led by Jordyn Lewis, averaging 14.6 ppg and Ashley Antone with 12.4 ppg. 
CSU Pueblo (4-11, 5-15) is led by JaNaiya Davis at 16.5 ppg. Sydni Williams also averages double-digits, with 10.9 ppg., as well as 8.5 rebounds per game.
Black Hills State currently sits seventh in the conference standings at 9-6 (12-9 overall). Racquel Wientjes leads the team in scoring and rebounding, averaging 17.1 points per conference game and 6.1 rebounds. Wientjes also sits third in the conference with her solid 86% from the charity stripe. Morgan Ham is averaging 15.2 ppg. and is shooting 43% from the field, which is fifth in the conference.
BHSU, Mines men look to keep rolling
After two big road wins last weekend and a Dixie State loss, the Black Hills State men are on top of the RMAC standings by themselves at 13-2 (16-5 overall), and they look to stay that way with two big home games this weekend.
The Mines men, meanwhile, moved into the eighth spot in the standings and look to close strong for a shot at postseason play.
The Yellow Jackets not only have first place on the line against a good Highlands team, as well as CSU-Pueblo, but have a 13-game winning streak going as well.
Freshman Joel Scott leads the team with 18.3 points per conference game, shooting a solid 61% from the field (which leads the conference) and 47% from the 3-point line. Tyler Oliver is the second leading scorer and leads the team in rebounding, averaging 7.5 rebounds per game and 3.6 assists per game. His rebound average is second best in the league, and he is fifth in the RMAC in both steals and assists.
The Yellow Jackets allow their opponents the least amount of points in the RMAC, only allowing an average of 68.6 ppg.
 Mines, 11-10 overall 8-7 in the RMAC, which is the No. 8 spot and currently eligible for post-season play. The Hardrockers are looking for some payback this weekend, as they fell to Highlands in New Mexico 89-87 after leading by seven points with just under two minutes to play.
Senior Allec Williams, who scored his 1,000th point in his collegiate career last Friday against his former team (MSU-Denver), leads the 'Rockers, and is 14th in the RMAC, averaging 15.2 ppg. Sophomore Mitchell Sueker is averaging 13.4 ppg.
Senior Logan Elers, who also reached the 1,000-point career mark last weekend, was named the RMAC All-Academic Player of the Year earlier this week. He is scoring 11 ppg and leads the team in rebounding averaging 5.4 rpg. Sophomore Damani Hayes, Sueker and Williams are all notching just under 5 rpg.
Highlands is 9-6 in conference play, fourth in standings. The Cowboys lead the league in scoring, averaging 88.9. Sammy Barnes-Thompkins and Raquan Mitchell lead the Cowboys and the conference in scoring, with 25.1 and 24.9, respectively.
CSU Pueblo is 7-8 in conference play and are on the edge of making tournament play. The ThunderWolves are led by David Simental at 18.1 ppg.