CHEYENNE, Wyo. — Cheyenne Frontier Days, billed as the world's largest outdoor rodeo, has been canceled for the first time in its 124-year his…
SIOUX FALLS | One of the first professional athletic sports to allow spectators to attend as states gradually lift restrictions imposed due to…
For young bull riders looking to sharpen their skills, the annual Bothwell-Weischedel Bull Riding & Fighting School is an excellent opport…
While the big-name professional events corral most of the ink in the sport of rodeo, the exuberance, enthusiasm and community support that sus…
Due to the coronavirus pandemic, spring sport activities at both the college and prep levels have taken a hit. Despite the wide-open spaces of…
In a recent Cowboy Channel interview, PRCA CEO George Taylor prophesized that professional rodeo, sidelined since early March by the Coronavir…
COLORADO SPRINGS, Colo. – Stock contractor Jim Sutton Jr. is among an eight-member class of inductees to be enshrined in the ProRodeo Hall of …
A Mid-Plains Community College steer wrestler is vying for the biggest paycheck of his life in Fort Worth, Texas this week.
Saturday meant names on paychecks as the 2020 edition of the Rodeo Rapid City PRCA rodeo drew to a close with matinee and evening performances.
An exuberant crowd ready to celebrate the end of the work week in rodeo style was treated to an impressive display by the timed event cowboys …
The Rapid City hometown listed on the rodeo day sheet and the "hey mate" greeting from bareback rider Jamie Howlett when queried hinted of an …
A world champion and four National Finals Rodeo qualifiers, the reigning PRCA Rookie of the Year, and a couple of Rapid City cowboys, Shane O'…
Rodeo fans were treated to a bucking bronc bonanza at the Rushmore Plaza's Barnett Arena on Wednesday night as Rodeo Rapid City hosted a PRCA …
A ranch rodeo, like the Sutton Ranch Rodeo held Monday in Barnett Arena at the Rushmore Plaza Civic Center, gathers teams of four cowboys or c…
After two days of PRCA events, Rodeo Rapid City took a reprieve from professional rodeo and turned the Rushmore Plaza Civic Center's Barnett A…
It seemed fitting on a perfect Western South Dakota-weather day, that the first performance of Rodeo Rapid City's PRCA event, an afternoon mat…
Chutes opened on nine days of PRCA rodeo action on Friday night as rank bulls and top professional bull riders took center stage in an Xtreme …
For a trio of South Dakotans, the 2019 PRCA National Finals Rodeo in Las Vegas the last couple of weeks may not have gone exactly as best drea…
Eighth Performance Results
LAS VEGAS – Bareback rider Clayton Biglow is making this look easy.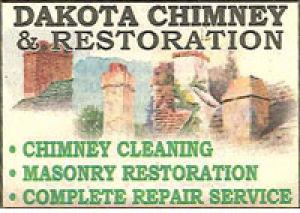 Dakota Chimney & Restoration, Inc.
LAS VEGAS – This is a habit tie-down roper Ty Harris doesn't want to break.
LAS VEGAS – Before the start of the 2019 Wrangler National Finals Rodeo, tie-down roper Shane Hanchey had a good feeling about how things were…
LAS VEGAS – Big Stone Rodeo Inc.'s Spotted Demon has been too much to handle for almost every cowboy.
Jordan Tierney of Hot Springs was crowned Miss Rodeo America 2020 on Sunday, becoming the 64th woman to win the title. Hannah Lieb from Washin…