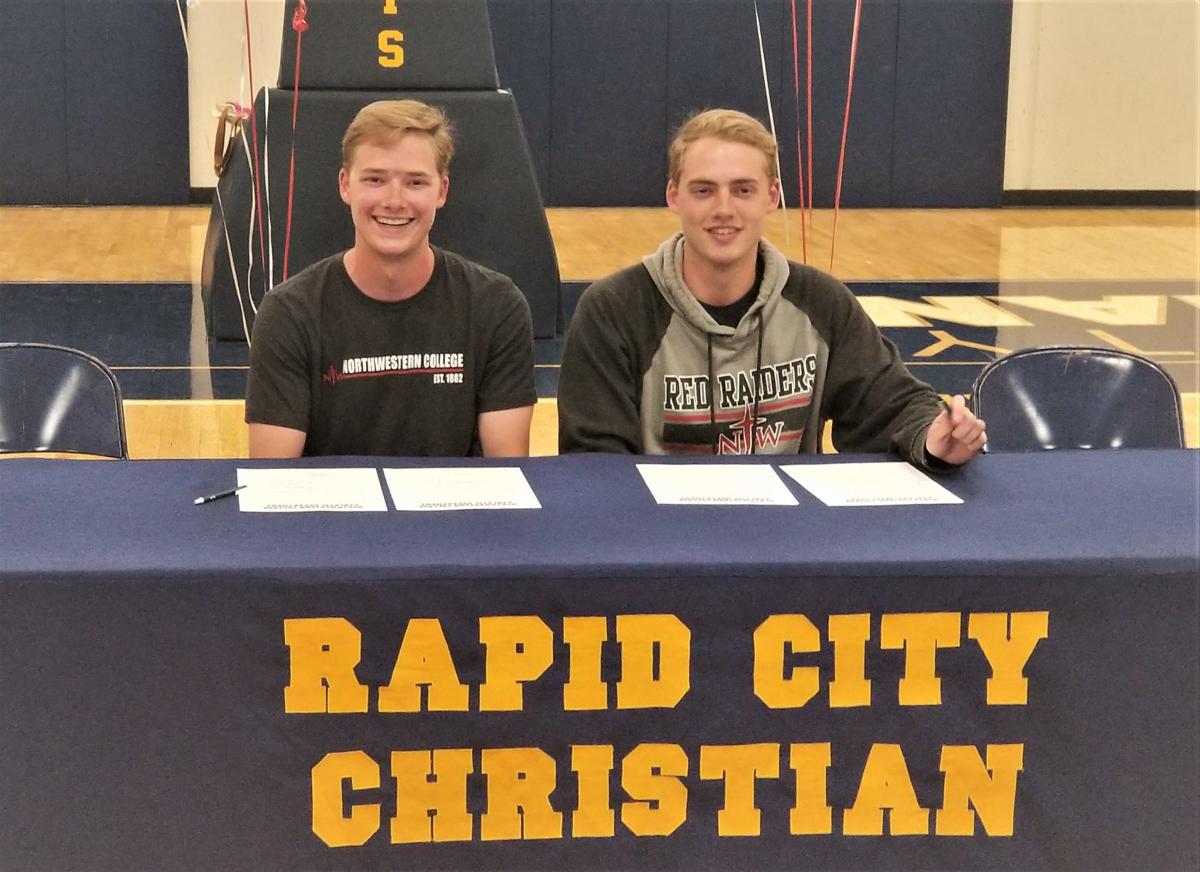 More doubles play together could be in the future for Rapid City Christian senior twin brothers Jack and Noah Roisum, as they both signed letters-of-intent Friday to play tennis at Northwestern College in Orange City, Iowa.
The Roisum brothers are also the first Rapid City Christian tennis players to move on to college. Their father, Mark Roisum, also played at Concordia College in Moorhead, Minnesota.
"I'm excited we get to go represent Rapid City Christian," Noah said. "The program here is still pretty young, and we're bummed we didn't get our senior season. But we're excited to go on and be the first people from Rapid City Christian."
Heading to the same college wasn't necessarily planned, but just a bonus, they said.
"We weren't necessarily looking at the same college, it was not a top priority for us," Jack said. "If we would have decided to go to the same place, it would be a bonus, but if we decided to go other places, it wouldn't have been a bad thing. But it is definitely a bonus to have go there at the same time."
Added Noah: "We've grown up playing together. We have this built-in competition, and I know we're much better players because of that. There is no one I would rather keep on playing together in college with."
Jack Roisum, tennis, Northwestern College
On why he chose Northwestern: "It's a great college. I did a campus visit last spring of my junior year. I was impressed by the whole thing — the campus, the staff, the students there. I was super impressed with everything there, and I am super excited to attend there in the fall."
On playing tennis on the collegiate level: "I'm excited to play tennis at the next level. I've been playing since I was a little kid, my dad has taught me since I could barely hold a racket. It's been tough missing out on my senior season. It motivates me to get out and keep hitting, and getting better."
On what he plans to major in: Jack is thinking about something in business.
Noah Roisum, tennis, Northwester College
On why he chose Northwestern: "We weren't set for sure on going to the same college, but we were both looking for the same thing, so naturally we landed on the same place. It is a bonus for sure that we get to go to the same place."
On playing tennis on the collegiate level: "I'm excited about the next level of competition to keep improving my game. I just want to get better and have some higher competition."
On what he plans to major in: Noah said he is officially undecided, but he is looking into international business or political science.
Be the first to know
Get local news delivered to your inbox!