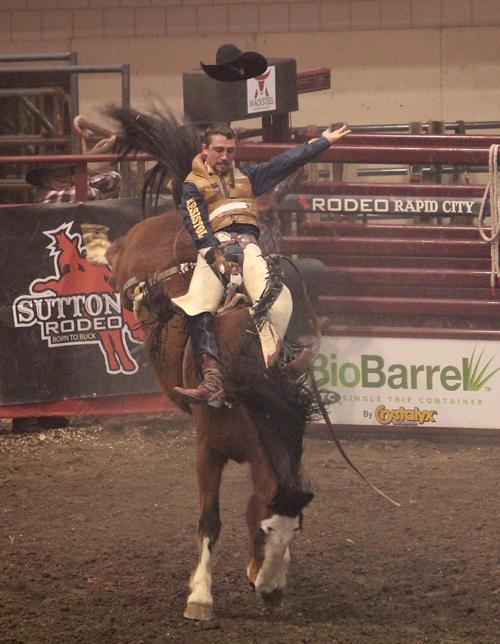 A world champion and four National Finals Rodeo qualifiers, the reigning PRCA Rookie of the Year, and a couple of Rapid City cowboys, Shane O'Connell and Jamie Howlett, highlighted the always exciting bareback event at Rodeo Rapid City Thursday night.
The young gun, Garrett Shadbolt (Merriman, Neb.) bettered his elders with an 84.5-second ride aboard Sankey Pro Rodeo's Hillbilly, a ride that was not only the best of the night, but the top score thus far posted through three Rodeo Rapid City performances.
"I didn't know much about him, but I thought I had a good horse, and sure enough he came out, kind of paused for a second, and then set up for me perfectly," Shadbolt said. "As soon as he settled and did that, I knew I had a chance for a good score."
O'Connell, looking to bounce back from a down year in 2019 following NFR qualifying work in 2018, posted the second-best ride of the night, an 83-point trip aboard Fettig Pro Rodeo's Pop A Top.
The Rapid City Central gradUATE and former high school national champion didn't pull any punches in assessing a ride that currently sits fourth in the overall standings.
"That was a great horse, and it felt good, but I'm just a little rusty," O'Connell said. "I've only been on five or six head this winter and that's not very much for bareback. But it's always fun to ride in Rapid City, and I have a bunch of rodeos coming up, so I'm planning to get a little crispier and get the rust off."
You have free articles remaining.
Howlett, an Australian cowboy who currently calls Rapid City home, had a solid 81-point effort. Though he won't be paid for his effort in Rapid City, Howlett departed for Fort Worth and a semifinal ride on Friday night that may offset the disappointment.
The other two rough stock events on Thursday night failed to dent the overall leaderboard as Canadian cowboy Logan James recorded the top saddle bronc score (78), and the four bull riders out failed to cover.
There were a couple of changes at the top of the Rodeo Rapid City leaderboard in the timed event side of the arena.
The team-roping tandem of Jon Peterson (Belle Fourche), the reigning Badlands Circuit header champion and Coley Nicholls (Kinnear, Wyo.) looped and stretched their calf in 5.1 seconds to move atop the overall leaderboard.
And the cowgirls put on an impressive display in barrel racing as Brandee Wardell (Buffalo) grabbed a share of the event lead (with another Buffalo area barrel racer, Jessica Routier) with a 12.47 spin through the barrels. Callie Kindred (Oral) worked the cloverleaf in 12.48 seconds to move into the third spot and Deb Thompson (Gordon, Neb.) sits fourth after a 12.54-second trip.
Bulldogger Colt Floyd capped off a big day for Buffalo rodeo athletes, posting a 5.6-second catch and tip despite being pushed farther down the arena that desired.
"He was a little strong and took a little longer to catch and gather up and get him tipped over than I wanted," Floyd said. "The last time I was out was the Badlands Circuit Finals. I have a construction company and will go to a few circuit rodeos, but I have three boys at home and we spend our time going to high school rodeos. It's a lot of fun and we enjoy it a lot."
Rodeo Rapid City continues on Friday (7:30 p.m.) with the fourth performance before concluding on Saturday with the final two performances (1:30 and 7:30 p.m.).