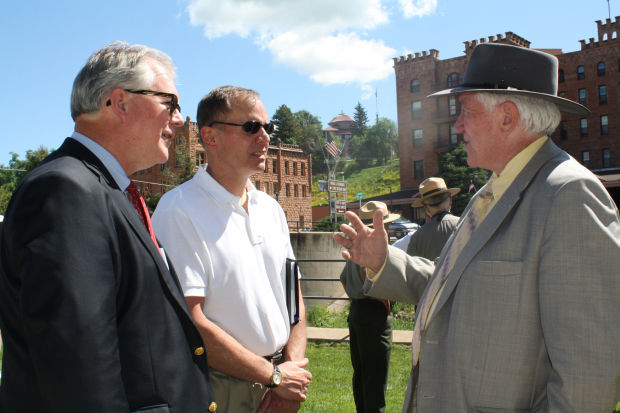 HOT SPRINGS | National historic preservation officials were in Hot Springs on Tuesday to name the Veteran's Affairs Battle Mountain Sanitarium as one of the most endangered historic buildings in the nation.
"I ask that you continue to help preserve this historic healing place for the next 100 years," said David J. Brown, vice president of the National Trust of Historic Places.
Brown was in Hot Springs to officially announce that the VA sanitarium had been added to the National Trust of Historic Place 2014 Most Endangered Historic Places list.
"By adding the Battle Mountain Sanitarium to the list of endangered places, it and the other 10 sites for 2014 join 264 historic sites identified and placed on this list since 1988," Brown said.
Brown made his remarks with a direct eyeline to the distinctive dome of Building 1 at the VA Black Hills Health Care System's Hot Springs campus, which grew from its beginnings as the Battle Mountain Sanitarium, more than 107 years ago.
Representatives of the Save the VA Committee, the City of Hot Springs and the offices of U.S. Sen. John Thune and U.S. Rep. Kristi Noem also spoke at the event.
"The VA is proving to be poor stewards of its historic buildings," Brown added. "Our hope is that with continued support and discussion, we can engage the VA with its proposal to shutter this healing center and that there will be improved consideration for this historic medical facility."
Save the VA committee chairman Pat Russell added: "The threats to our nation's most treasured places would be a disservice to the veterans who have received treatment here starting with the Civil War and continuing to the veterans of Iraq and Afghanistan."
The VA has been holding public hearings on its proposal to close the Hot Springs VA Medical Center and replace it with a community-based outpatient clinic, while also closing the PTSD and Substance Abuse Treatment Programs in Hot Springs and moving those programs to Rapid City.
Brad Otten, West River representative for Rep. Noem, read a letter written by Noem to Rep. Jeff Miller, R-Fla., chairman of the House Committee of Veterans Affairs, in which she formally requested a field hearing at the Hot Springs VA Hospital.
"In the more than two years since the VA's intended closure announcement," Noem's letter reads in part, "data discrepancies on VA information have yet to be reconciled and congressional requests for additional data and meets have gone unanswered. Many have also raised concerns about the systematic reduction of services provide at the hospital, which could later be used to justify closure."
Noem's letter coincides with a South Dakota American Legion Executive Committee resolution that also calls for a Congressional Hearing, to take place in Hot Springs, with the express purpose of determining the accuracy of the data being used to justify the closure of the Hot Springs VA hospital.