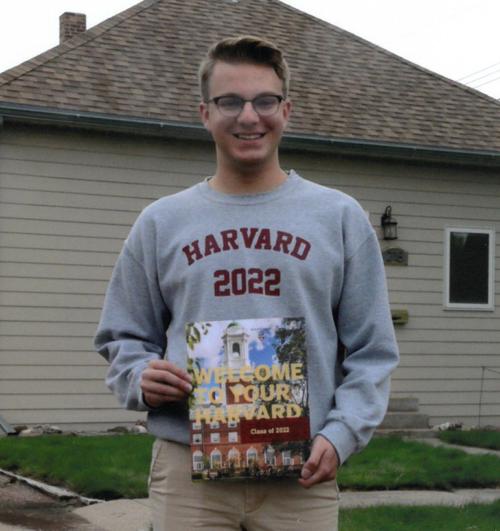 Hunter Hawk isn't sure where the idea came from, but when he was a sixth grader in the Chadron Schools he decided he'd like to go to Harvard University when it came time to attend college.
"I think my idea was to apply and see what happened," he said during an interview only a week before he heads back to Cambridge, Mass., for his senior year at what is the oldest (1636) and perhaps the most prestigious institution of higher education in the nation.
Thanks to a 34 ACT score, the fact he'd taken four advanced placement courses at Chadron High and had excellent recommendations from teachers Linda Drinkwalter and Brenda Lanphear, plus guidance counselor Loni Watson, getting accepted wasn't difficult for Hawk, even though the Harvard website says less than 5% of the applicants are accepted.
"I filled out the application forms and sent them off, just like I did for quite few other places, such as all the schools in the University of Nebraska system, Creighton and Chadron State," he recalls. "They also had me write an essay and I had a Skype interview with a Harvard graduate, John Kotouc, a prominent Omaha banker. Everything apparently everything went well, because I was accepted."
Hunter, salutatorian of the Class of 2018 at Chadron High, admits that he's always enjoyed school. He says he became a voracious reader as a fifth grader under Meghan Merkel, and enjoyed high school, where he was on the Student Council, participated in FFA and FBLA, was a member of the National Honor Society, Math Club and Interact, was on the mock trial and speech teams and had history projects win state honors and advance to the national contest.
Ironically, he did not take computer science courses in high school, but that's his major at Harvard. With graduation just a year away, he's not sure what he'll do next. Graduate school is a possibility.
Hunter says he's had a terrific time at Harvard, enjoyed the atmosphere and culture, finds many of the classes to be both stimulating and intriguing and has succeeded academically while also making many friends. He's earned more A's than B's and no grades below that.
Harvard students are limited to four courses a semester and he said he seldom "burns the midnight oil" studying, "if I've managed my time right."
But he feels he's been short-changed. He's missed out on at least a year of "the Harvard experience."
Because of COVID-19, Hunter and the approximately 6,000 other Harvard undergraduate students were sent home in March of 2020 to finish that semester on line. Only freshmen were on campus in the fall of 2020, when the instruction remained entirely on-line.
Even this past spring when upperclassmen such as Hunter were allowed to return, there still were no "in-person" classes. The students lived in their "residential houses" or dorms, but did their coursework on computers via Zoom.
Because of the pandemic, activities on campus also were curtailed.
As things now stand the classes this fall will be "in person," much to his delight.
"I stay on task better when I'm in a classroom listening to lectures or in a group that's working together," he said. "Sometimes, I'm pretty easily distracted when I'm at home working by myself."
Due to the hospitality offered by her parents, Hunter spent much of the fall of 2020 in Arizona doing the on-line routine with a Harvard classmate.
For many years, most of the Harvard students were from wealthy families who could afford the high tuition private institutions charge. Most of them had attended New England prep schools, but things have changed through the years. Tuition is still listed at about $70,000 a year, but students from families with incomes under $65,000 annually attend without paying tuition and most are now public school graduates, giving the student body more diversity than it once had.
Jason and Amy Hawk have excellent jobs in Chadron. Hunter's father is the service manager at Wahlstrom Ford and Amy is a relationship associate at First National Bank of Omaha, but Hunter notes he doesn't have to worry much about tuition because of Harvard's generous financial aid.
The fact that Harvard has a $41.9 billion endowment fund, said to be the largest of all educational institutions, is why it is able to eliminate or reduce the tuition for much of its student body. The endowment is one of the many "highest or best" designations that Harvard possesses.
It is often recognized as the nation's preeminent research university, eight U.S. presidents have been Harvard graduates, it has 188 living billionaires among its alumni, 79 Nobel laureates, 48 Pulitzer prize winners, has 42 intercollegiate athletic teams, the most of any U.S. colleges, and its Widener Library is the world's largest, containing 20.1 million items.
Hunter has visited the library, once to check out a book, and a couple of times just to check out the facility. Since it is located underground, he said the Boston subway is required to slow down when it passes near it to avoid shaking some of the contents off the shelves. He's been told that the aisles in the library are more than a marathon (26 miles, 385 yards) in length.
Hunter also likes Harvard for other reasons. He says he especially enjoyed his first three semesters when he and his classmates took what might be called "exploratory courses," designed to acquaint them with an array of information before they are allowed to choose their majors.
One of the courses he took had just nine students and was on the Founding of America. It was taught by Annette Gordon-Reed, a professor in the Harvard Law School who is recognized as a leading authority on the topic and particularly about Thomas Jefferson. Reed accompanied the class when it attended the play "Hamilton" at the Boston Opera Theater.
He also took an Introduction to Genetics course that was taught by three professors, including Pardis Christine Sabeti, recognized as a leader in finding the cure to Ebola and was named one of Time Magazine's 100 most influential people in 2015. In addition, she is the lead singer and a writer for the rock band, "Thousand Days."
This summer also has been special for Hunter while he's remained in Chadron. Via his computer, he worked for the Center for Nanoscale Systems, a research laboratory at Harvard. The lab created a virtual scan of the facility so people can visit the lab on their computers.
Nanostructures are extremely small and are integrated into large and complex interacting systems.
Hunter's assignment was to add tags to the equipment so they can be clicked on to see what the items are and what they do. He also created a tour that takes viewers around the facility, almost like they were there in person.
"It was a really great experience that was very exacting and fairly complex," Hunter said. "I was glad I was selected to do it. It made the summer really interesting. They have told me I can work there this fall and I am planning to do that."