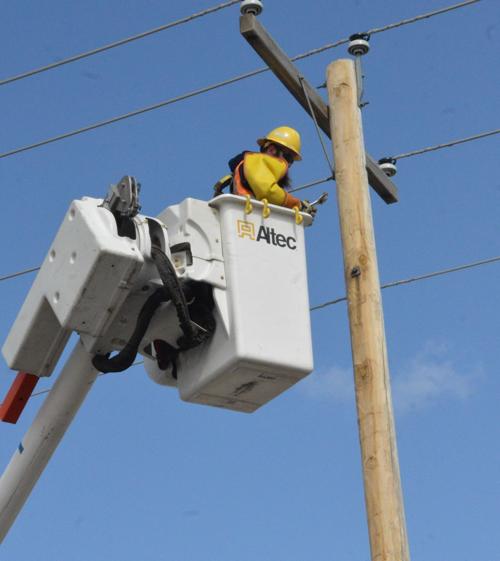 Every year, one day is set aside in Nebraska to honor and recognize a group of first responders who are called on at all hours of the day and night - - lineworkers from electric utilities.
Monday, April 12, is Nebraska Lineworkers Appreciation Day — National Lineworkers Appreciation Day is set for April 18 — to recognize lineworkers who maintain the power lines and are among the first responders to a natural disaster or other action that may damage a power line or structure. Residents and businesses will see crews arrive on the scene of an outage whether it is an equipment malfunction, a downed power line, or restoring power following a traffic accident, a storm, or even when lines are struck by a plane – at all hours of the day and night.
Steve Woodward with Nebraska Public Power District attended a two-year lineman college in Norfolk. The first year, he explained, involved general education in climbing and connections. That was followed by a summer internship before the second year, which was more practical exercises, troubleshooting and finding problems on a system.
"They have a big mock system out there that's all de-energized you can work on." Regarding the internship, he further added there are lists of openings for people seeking interns, such as NPPD, for which one can apply.
Nebraska Public Power District also has an in-house lineman progression program, Woodward said, in which a person begins as an apprentice line technician, then moves into a full line technician before earning a journeyman certificate. There are a series of written exams, he noted, and those in the program also have to have good work practices and complete an oral review.
This review involves making mock electrical connections as far as transformers and meters, and some practical field work like changing out insulators and finding problems on underground systems.
An apprentice lineman typically won't do a lot of high-voltage switching, Woodward said, and a journeyman is more of a senior position within a company, someone who is knowledgeable and experienced, and can oversee work as well as do it.
"People always call you an electrician," Woodward said, pointing out "there's a marked difference between an electrician and a lineman just purely based off the size and scope of work that you're doing. We're working with primary voltages anywhere from 2,400 to 7,200." That's quite a bit more than the 110 or 120 in homes.
"We're building structure," Woodward continued, "so there's more of a construction aspect. We're framing the poles, we're attaching the hardware, we're setting the poles, and bringing the line up and tying it into a structure."
At NPPD, there is an on-call rotation for employees, typically on for a week at a time. A brand new apprentice won't go on calls for several months, Woodward said, and even then other employees will go with them. Two people regularly go out on most calls, he said, and any work done that involves handling energized conductors requires a second person that's qualified as an observer to ensure no mistakes are made.
In a week's time, "it depends on how lucky you are," Woodward said of the average number of calls. Some weeks he doesn't see any; others, he might but in 30 hours of after-hour calls. "Out here we have less of struggle in the winter than the eastern part of the state. It's just drier. There's less ice buildup on the lines, which helps us out a ton with outages."
The storm a few weeks ago only saw one outage, by the airport. "We just had a couple wires that got some ice on them, smacked together and then blew a fuse," Woodward said. Before the line can be re-energized they have to patrol to make sure there aren't wires downed or touching somewhere they shouldn't.
With regard to personal safety, Woodward said if anybody spots a wire at all on the ground it's important to keep people away and "9-1-1 is a perfectly fine number to call." There have been a couple times in the past year when he showed up to a downed wire that had been moved. He stressed that a wire may look de-energized but there is no sure way of telling. "There's no sound or smell. Electricity produces no sensation until you contact it."
A line can have touch potential, which would shock a person who tries to pick it up and move it. However, there is also touch potential that can also be harmful. Woodward explained voltage moves out from a downed power line in concentric circles from where it touches the ground. If a person has one foot in a ring that is 7,200 and the other foot in a ring that is 6,400, "that difference in voltage will travel through your body. Even approaching a power line is dangerous. Every step you take is a real roll of the dice."
If a person has to be within proximity of a power line, the safest bet is to shuffle feet. They can also hop, but that has the potential risk of falling.
Woodward also said employees try to establish work zones as best they can with cones and barricades to keep people out of the "drop zone" where items might fall. "Watching from afar is not a bad deal. But standing anywhere near the work, there's a risk associated with that."
Those who want to be linemen should begin with researching schools. In his opinion, the two-year programs are more in-depth, and a person comes out more knowledgeable and easier to hire.