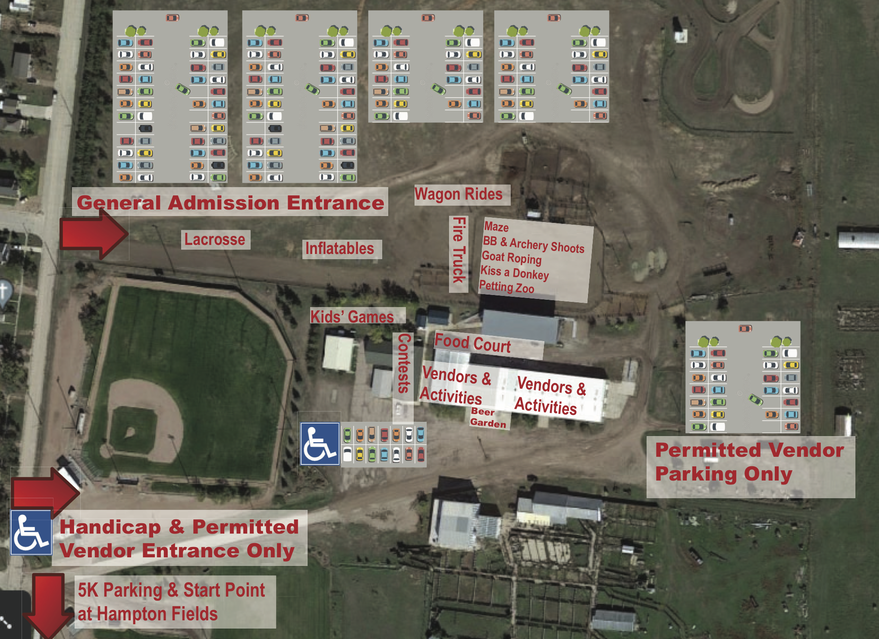 Fall is on the horizon, and with it is the return of the Harvest Moon Fall Festival. Though this year marks the ninth for the event, it's only the second time Chadron has hosted it after a change in venue from the Box Butte county Fairgrounds to those in Dawes County. Though unsure of how the initial year would go, Harvest Moon Committee member Julie Lawrence said the attendance was 3,000-plus, surpassing the high of 2,500 seen when the event was at Hemingford.
There are at least 15 non-profit organizations planning to set up at the event, Lawrence said, pointing out Harvest Moon is designed for the community to come together and have a good time, and to help those non-profits get money for their groups.
"I'm really happy to see the amount of non-profit that we have," she said, adding that one of the fun events — putting people in "jail" — is being handled by the Chadron High FBLA. The jail cell is one of several new events, as is the Hay Springs FFA's Pancake Feed, an inflatables corner, outhouse races — which will actually be on Main Street — caricatures by Dirk Christiansen, a gnome scavenger hunt, and the duck and fish races.
Lawrence praised Christiansen, who was at the festival in 2019 but took last year off due to COVID-19.
The hay bale contest, which led to plenty of amusing and creative decorations around town, will return. Lawrence noted people can bring in their own hay bales, or pay $25 per bale which the Harvest Moon committee will match.
As for the gnome scavenger hunt, Lawrence explained vendors will donate gnomes to hide around the fairgrounds. If a person finds a gnome, he or she can take it to the stage for a prize.
Many of the events will be in the main grandstands arena, Lawrence said, noting she had no visual last year as to how big the space was. This year, it will be home to the petting zoo, archery, hay bale maze, goat roping, BB shoot, the "kiss a donkey" booth and the wagon rides. She noted this not only keeps things centralized, but also provides opportunity for parents to sit in the grandstands and watch their kids having a good time.
The grandstands, Lawrence noted, also provides shelter for the food vendors.
One of the biggest issues from last year's festival was parking, Lawrence said, as people are so conditioned to use the south entrance of the fairgrounds to enter. The actual parking starts at the north entrance and goes northward from there. Not adhering to the designated parking areas can seriously limit setup areas for vendors and events.
Contests for the festival include: pie, salsa, chili, homebrewed beer and wine, costume, liar's contest, scarecrows, hay bales and outhouse races.
Events include: pancake feed, Hangry Cow 5K, jail time, goat roping, corn hole, haunted maze, super BB shoot, lacrosse, inflatables, kids area, pumpkin decorating, Connect 4 basketball challenge, face painting, henna tattoos, dodgeball, petting zoo, kiss a donkey, primitive way, caricatures, beer garden, wine tasting, gnome scavenger hunt, Chadron Fire Department truck, duck and fuish races, cake walk, seatbelt safety demonstration, animal balloons, magic show, wagon rides, archery shoot and farmers market.
There are some spots left for the festival, and those looking to claim a spot can contact Lawrence at 308-629-8224.