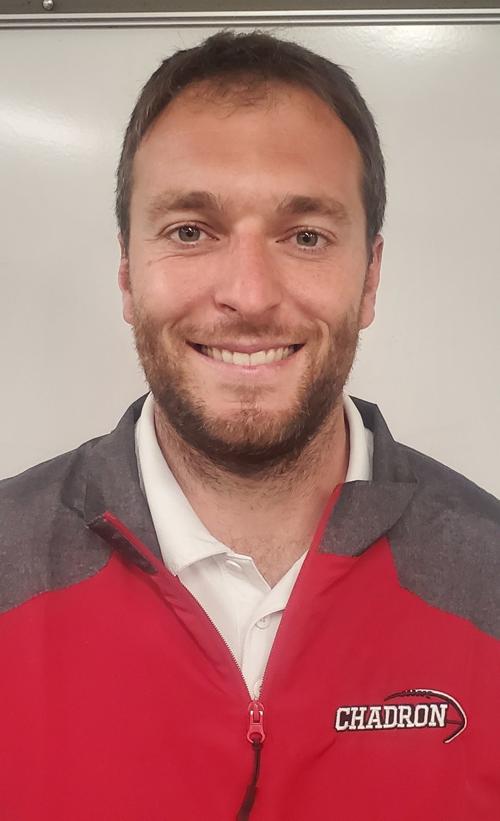 National History Day® (NHD) recently announced Chadron High School History and Civics teacher Michael Sandstrom as one of only 15 educators who will create a valuable new classroom resource.
Over the next several months, Sandstrom and the cohort of contributors will work directly with NHD and Library of Congress staff to write and test a series of five student guides based on the five NHD project categories: documentary, exhibit, paper, performance, and website. The guides will help students find, analyze, and integrate primary sources from the Library of Congress into their NHD projects. Sandstrom's experience will include advanced virtual training with the Library of Congress and its TPS partners. Upon the guides' completion, NHD will distribute the series online.
The cohort of 15 teachers will begin its work with National History Day and Library of Congress staff immediately. The educators chosen for the program represent Illinois, Indiana, Kansas, Massachusetts, Nebraska, New Mexico, Ohio, Pennsylvania, Rhode Island, Texas, Virginia, Washington, and Wisconsin.
The past couple years have seen Sandstrom recognized as the Nebraska History Teacher of the Year for 2019, a recipient of the Nebraska Department of Education Award of Excellence and a finalist for Nebraska's 2021 Teacher of the Year.
As to how he became involved with the latest NHD project, Sandstrom said, "Things tend to build on themselves." He previously researched the life and service of World War I Corporal William Charles Herman as part of Memorializing the Fallen, another NHD program, and was therefore among those contacted based on previous exposure.
He still had to apply, provide a written sample and answer a few questions before the formal selection and placement. Within the 15-member cohort, he said, there are four who were on the same trip to France and Belgium that he took while researching Corporal Herman in 2019. One of them also happens to be his roommate from that trip abroad.
Sandstrom is taking what's referred to as the basic course in teaching primary sources from the Library of Congress, a 12-hour course that introduces the library's website, resources and functions. In the meantime, he's also doing virtual weekly meetings with others to determine what their idea will be for their chapter.
He explained the initial group of 15 was divided into five groups of three, covering the five areas for the student guides. He's part of the "website" category, working to first define what topics they will cover before looking into research as to what the Library of Congress has on those topics to write their guide.
Sandstrom is currently in his fifth year with Chadron High School. Principal Jerry Mack said Sandstrom, a CHS graduate was a high-achieving student at Chadron State College, where he also played football. Sandstrom earned his Bachelor's of Science in in Education in 2013 and moved to Colorado to begin teaching, but when the previous CHS Social Studies teacher took a job in California there was no question about who to call to fill the spot.
"We cold-called Mike," Mack said. "We had to call and bait him back." Sandstrom was already being recognized in Colorado, and several educators at the school recalled his dedication as a student and knew he'd be a good fit. To top it off the district was also in need of an elementary teacher, which Sandstrom's wife Sheyenne is.
Of Sandstrom, Mack continued, "Here's a kid that coaches football and basketball, varsity-level, and he works for the Forest Service in the summer, yet he always continues to learn or find opportunities for the summer . . . I honestly think every single summer he has found grant opportunities or applied for programs that allow him to continue his own learning. That comes back and benefits students in the classroom."
"I feel like I've learned a lot in everything I've ever done," Sandstrom said. For example, in his research project on Corporal Herman he was able to visit with other educators and discuss ways to present World War I to students. In researching different parts of the Library of Congress website, he's found a vast resource of political cartoons.
"I'm a huge fan of political cartoons. I think they're a really important teaching tool because they can tell a lot about multiple things." There are tiny details the artists put in, many of which reveal a certain point of view, and they are not a text document that might scare off some people.
Sandstrom also added he's always strived to do well, and find avenues where he can do that. Having finished his Master's from Pace University this past year, he felt like he wanted to be involved with another opportunity for learning
"Mr. Sandstrom and his fellow contributors bring many years of classroom and project-based teaching experience to this endeavor," said Dr. Cathy Gorn, National History Day Executive Director. "Through this new series, these teachers will showcase the Library's primary source collections for the benefit of National History Day students for many years to come. We are grateful for this opportunity to work with the Library of Congress as creation partners for this important project."