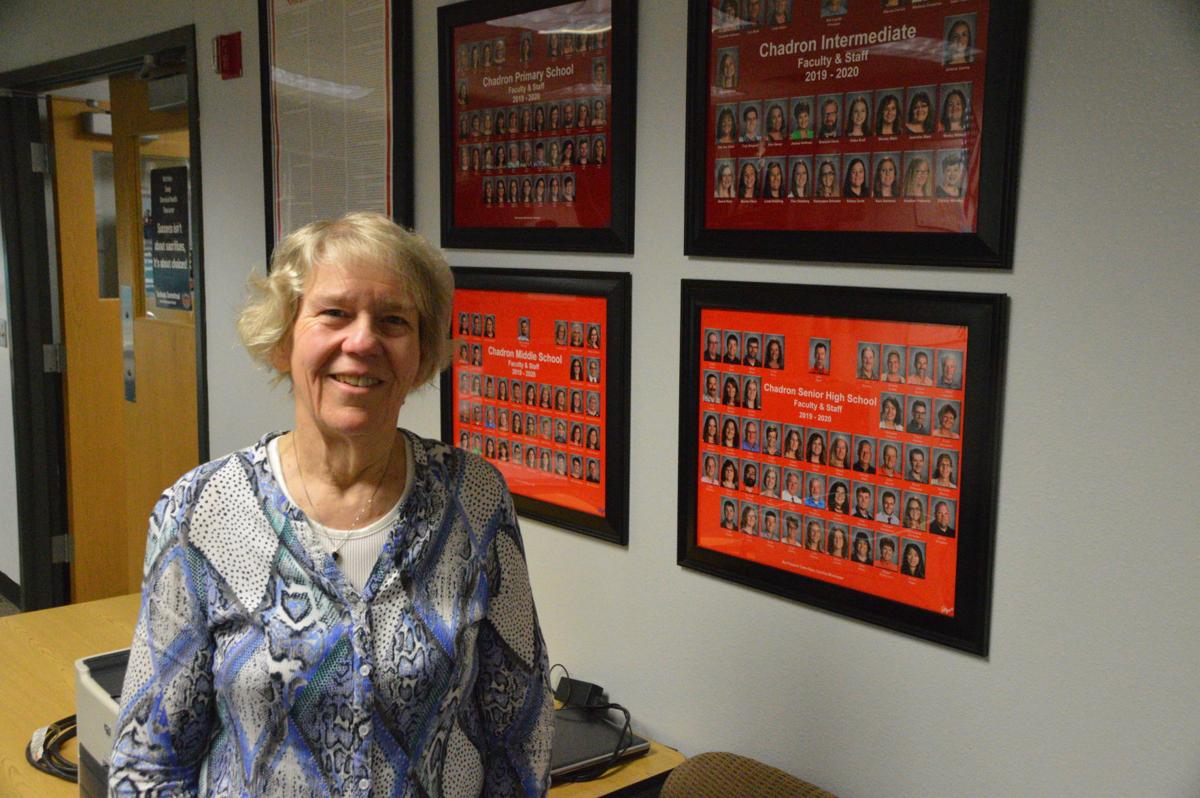 This week marks a milestone for Chadron Public Schools' Dr. Caroline Winchester, as it is her last as superintendent. In 10 years, Winchester has faced some big challenges in the district and made plenty of memories.
Winchester's first official day as superintendent was July 1, 2010, though she had some vacation time and came a couple weeks early. Though not officially on the clock, she wanted to familiarize herself with the community and the staff.
Previously she was a superintendent at Loup City. "That's an interesting situation," she said. In younger years, her husband Miles was in the service and stationed in Florida. After his discharge, they returned to the farm in Ord, and Loup City was her first teaching assignment in Nebraska. "Thirty years later, my former students, who were now on the board, invited me back to be their superintendent."
She added with a laugh, "The moral of the story is you need to be nice to those students because you never know when they might be your boss someday."
As for the draw to Chadron, Winchester said ti was the people. She met several of the administrators through Reading First, a grant that Chadron and Loup City had that included monthly meetings between them and other school districts across the state. "I was just so impressed with the administrators [in Chadron] and what they were doing, wanting to put kids first, and I wanted to be a part of that."
Of the memorable experiences she's had as Chadron's superintendent, Winchester said when she first came there had been a loss of $1.6 million of the district's $5 million budget at the time. "That's a big chunk," she said, but the process to address this situation was laid out by her and the board. "I saw what I will call miracles."
Knowing the loss they were facing, a series of meetings were planned with the public. Winchester had refreshments prepared, as such meetings could last hours and into the wee hours of the morning. The meeting was emotional and passionate, and everyone was respectful and shared what they wanted, Winchester said, but what really amazed her was how short the meeting was. "It started at 5:30 and I was home by 7 or 7:30."
From that first meeting, a committee of school staff, board members and community members was formed to decide how $1.6 million could be cut. There were four rural schools at the time, Winchester said, and it was necessary to close them.
"We had a series of meetings," Winchester said, "and everybody had a vested interest in not closing them. But, that's what it ended up coming down to." At the same time, the town schools were reconfigured. Prior to this both Chadron Primary and Chadron Intermediate were K-4, but were changed to the current configuration of K-2 at Primary and 3-4 at Intermediate.
"Years later, people shared it was painful, but was the best thing for the kids. More importantly, they felt that everybody had shared in the process because we not only closed the rural schools but reconfigured the town schools. We kind of upset the fruit basket all the way around."
The new configuration, in her opinion, is also good for students and teachers because staff for one grade are all in one building. This allows them to meet informally and plan activities without travel between buildings. This easy collaboration, Winchester said, was also beneficial in setting up remote learning during the last couple months of the 2019-20 school year.
Another challenge for Winchester when she came was facility issues including failing HVAC systems, and leaking roofs and windows. There was a bond issue on the ballot at the time, but it failed. There was another public meeting to address the facility issues using the $1.05 levy, during which there was something of a call to action from above.
Winchester recalled they were having a meeting when there was a loud noise. Jerry Mack, who was facilitating the meeting, pointed out the room was noisy. However, Vic Bradley beckoned Winchester to the hall, where he told her the roof had just blown off the high school gym. "Sure enough, I went in there and we could see daylight."
The roof was, of course, replaced, and in the years she's been with the district, Winchester noted the $1.05 levy has been used to cover several millions of dollars in fixing facilities.
A memorable event for Winchester was the total solar eclipse of 2017. "It was amazing in how well behaved the kids were." That spring, high ability students created lessons for the Primary and Intermediate buildings to get the younger students familiar to what and eclipse is. Food services was also on board, creating sack lunches.
"The day of the eclipse, we've got 1,000 kids and parents all out on the [practice] field. All of the kids were well behaved. We had some people bring telescopes. They got to experience it, and when they went back to their classrooms there was not one piece of trash on that practice field."
Dr. Winchester and her husband Miles celebrated another milestone, their 48th anniversary, on June 18. The couple plans to stay in Chadron, "Lord willing, as long as we can take care of ourselves." They also have two sons and four grandkids they plan to visit.
Going forward, Winchester said it's important for the board to be supportive with the re-opening of schools next year while dealing with a health issue. She said it currently looks like schools could reopen normally but there will be some hygiene issues to address. She recently picked up 200 gallons of free sanitizer, and appreciates the ethanol producers, University of Nebraska and US Forest Service for providing it.
Incoming superintendent Ginger Meyer and the administrative team will have to put plans together quickly, Winchester said, and Meyer will need a lot of encouragement "because it's not going to be a normal July." She will be doing the normal July activities such as budget planning and getting acquainted with the district, on top of planning on how schools will operate.
"I've just been so blessed to be a able to be a part of this. Our kids our fantastic, even with the remote learning. We have great kids, they're very talented." She recalled having a challenging day but attended a school concert in the evening during which she realized, "This is why I do what we do; It makes it all worthwhile. You put up with the challenges because you can see all of the wonderful things those kids can do."
Be the first to know
Get local news delivered to your inbox!