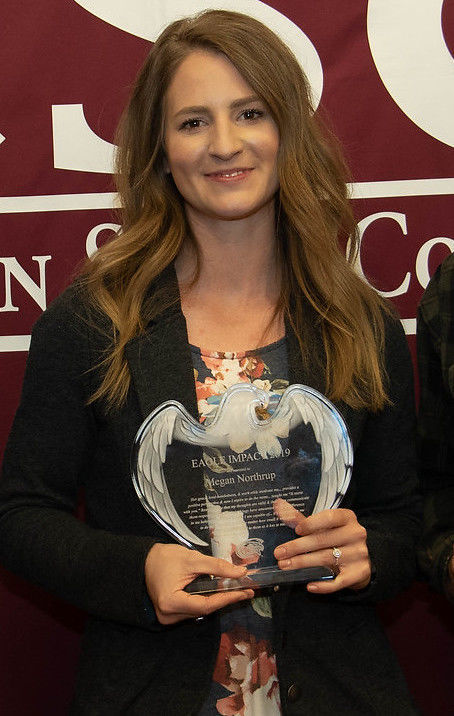 College Relations publishes a monthly series of news articles, features and Q&A interviews highlighting various departments on campus in an effort to assist the faculty and staff in gaining an increased awareness about and understanding of each other's roles and responsibilities.
The September Q&A is with Student Activities Coordinator Megan Northrup.
Q: What are your areas of responsibility as the Student Activities Coordinator?
I am the adviser for Student Senate and the Campus Activities Board, the adviser and supervisor for The Pit staff, and I oversee and help develop the Eagle Leader Mentor program, which is new this year. I am also an adjunct instructor teaching a food science course. I'm involved with all Student Activities: Homecoming, Week of Welcome, Spring Daze, and others. I also make sure the students are getting access to leadership development opportunities. There's a broad spectrum, but it's fun.
Q: What is involved in advising Student Senate and Campus Activities Board?
My job is supporting and assisting students. They are full-time students and have jobs. They are volunteers and really want to be leaders which is so inspiring. They'd like to make changes and they have a lot of passion. I help them with the steps they need to take and who they need contact to reach their goals.
Q: Tell us more about the Eagle Leader Mentor program.
It is a pilot program this year. We have 18 mentors serving 180 first year students. It rolled out during New Student Orientation, Move In, and Week of Welcome. It creates a fun, social environment for freshmen to get to know an upperclassman. It is focused on helping new students with the transition to college, a time that can be overwhelming. This way they have a friendly face to ask questions.
Q: Describe the renovation of The Pit area in the Student Center.
Last year, the student workers in The Pit noticed a decline in the number of students hanging out there. So, Sara Flores and Kevin Coy worked together to host focus groups and find out what students wanted to see in The Pit. Students said they wanted more of an arcade feel, so we added Hoop Shoot and Nintendo 64, which is old school, but fun. They revamped it and made it their own. The student workers did all the work. I think it's been awesome. It's been busy.
Q: Can you tell us about the Eagle Rewards app?
The Eagle Rewards app allows students to earn points from attending events sponsored by Athletics, Residence Life Association, Student Activities, and Student Senate. It's a great way for students to check in and get involved on campus and win prizes. Employees can participate, too.
Q: What do you enjoy most about working with student leaders?
Seeing them use their critical thinking skills. They tend to want the answer now because they are used to having someone tell them the answers. They know I will help them figure out the answers and The Pit renovation is just one of those examples. I'll be there to support them. That's what we're here for, helping them develop those skills so when they go for a job interview they can stand out. There are some late nights and long hours, but there are a lot of really rewarding aspects to being the Student Activities Coordinator.
Q: How did it feel to win the Eagle Impact Award from students in April 2019?
That was seriously the highlight of my year. It was so touching, very unexpected and humbling. It makes me want to work even harder and make connections with students.