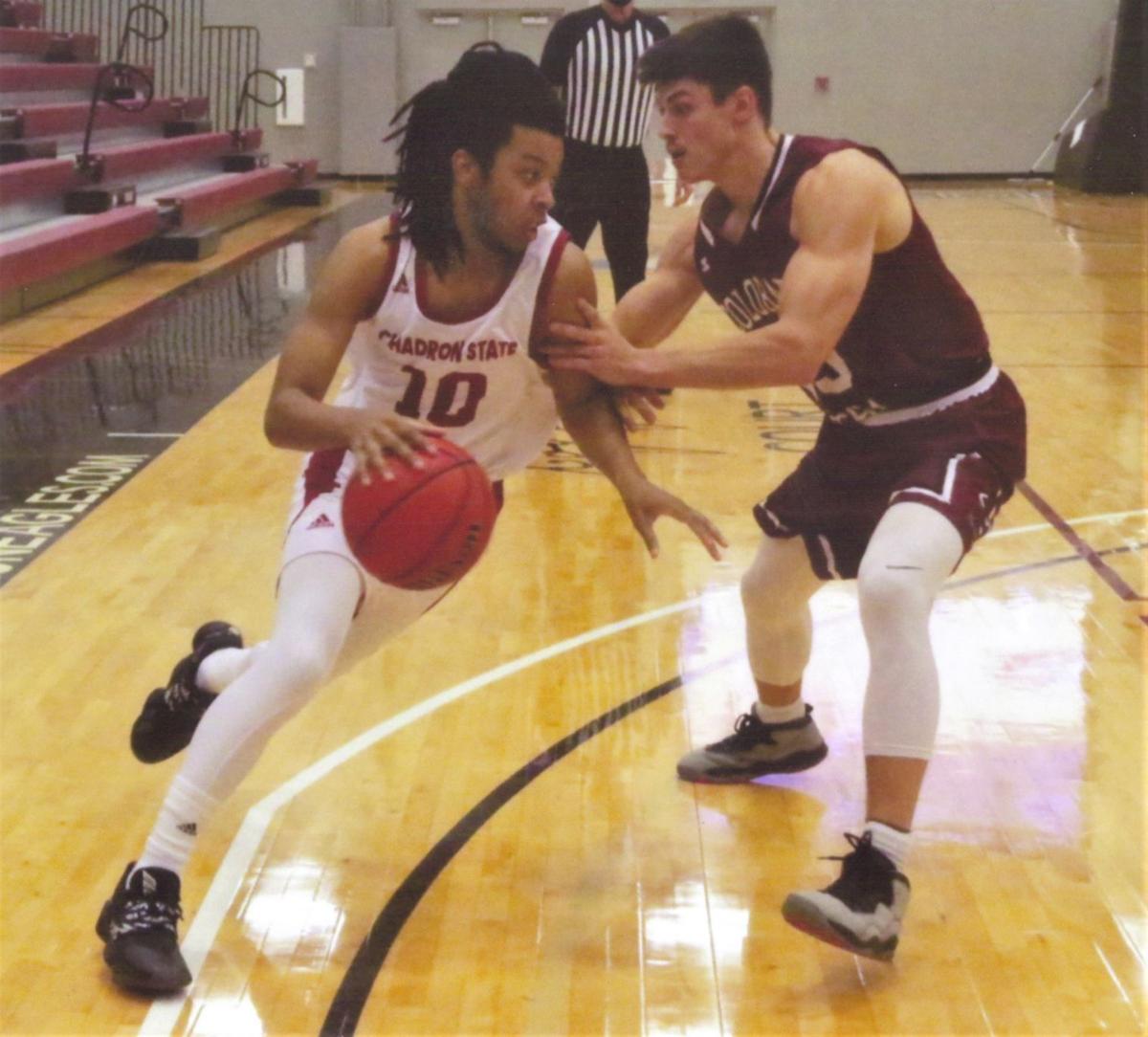 After a long wait, the Chadron State College men's basketball team, under the direction of first-year Head Coach Shane Paben, got off to an encouraging start last weekend. The Eagles won their opener over the Westminster Griffins 66-60 and nearly upset Colorado Mesa before succumbing in double overtime 77-68.
While Paben let it be known during a postgame interview Saturday night with Dave Collins, the voice of the Eagles, that he isn't interested in "coming close," his team's ability to rally past Westminster and force Mesa, a perennial power that holds a 37-11 advantage in the all-time series, into two extra sessions was encouraging to long-suffering CSC fans.
The Eagles, who pretty well controlled the tempo in both games, opened strong against Westminster. Their biggest lead of 28-20 came with 4:22 left in the first half and they were still on top 34-30 at halftime.
However, the Griffins tallied five points in the first 70 seconds of the second half, went up by as many as seven points twice and never trailed again until CSC's Brady Delimont sank a pair of free throws with 2:47 to play to make the score 57-56.
After regaining the lead, the Eagles were ahead the rest of the way to give Paben the win in his first game as their coach.
CSC shot just 41.7 percent from the field compared to 50 percent for Westminster, but the Eagles sank 11 of 28 three-pointers and Salt Lake City team was just three of 10 from afar.
Junior post Jacob Jefferson shot 8-of-10 from the field, including a pair of treys, to take game scoring honors with 18 points. Three more Eagles--Delimont and transfer guards Marcus Jefferson and Teddy Parham--all finished with 11.
Jarrett Jordan and Joey Andrews paced the Griffins with 13 points apiece. Andrews also grabbed 16 rebounds, all off the defensive glass.
As the overtimes would indicate, the Saturday night game was a nail-biter. There were 14 lead changes and seven ties.
The patient Eagles led most of the first half, going up by as much as 31-23 with two minutes left in the first half and held a 33-28 advantage at halftime.
Chadron State maintained the lead through the first five minutes of the second half, but scored just two points in an eight-minute stretch, allowing Mesa to go ahead 49-42 with 6:47 left in regulation.
The Eagles never led again in regulation, but tied the score at 50-50 on Delimont's 3-pointer with 2:55 to play. The Mavericks were on top 56-52 with 1:39 left, but CSC's Marcus Jefferson, a six-foot junior, took the ball to the basket for a pair of layups, the second one with just 10 seconds left, to knot the score at 56-56 when the buzzer sounded.
Jefferson also got another layup when the Eagles grabbed their only lead--60-58--with 3:45 to play in the first of the five-minute overtime periods. The Mavs tallied the next seven points, but the Eagles tied things up again at 65 when alternate center Deion Rhea hit a short jumper and Parham followed with a 3-pointer with 52 second still showing.
The Mavs turned the ball over with 27 seconds left in the first overtime, but CSC couldn't make the shot it needed to win the game.
Unfortunately for the Eagles, Mesa outscored them 9-3 in the second overtime. Six of the Mavs' last ditch points came at the free throw line, where they outscored CSC 22-3 for the game. The Eagles' only points in the second OT came on guard KJ Harris's 3-pointer.
The hosts had nine to three advantage from behind the arc for the game while taking 32 long range shots compared to 14 for the Mavericks
Mesa's 6-7 junior Ethan Menzies was the game's leading scorer and rebounder with 22 points and eight caroms. Mac Riniker, a 6-5 redshirt freshman, added 16 points for the visitors.
The 6-7 Rhea was impressive while coming off the bench to lead CSC with 17 points and seven rebounds. Marcus Jefferson tallied 16 points, Parham 10 and Harris nine.
CSC's Jacob Jefferson contributed seven points, all in the first half, before fouling out after playing only 21 minutes. His foul trouble allowed Rhea to play 33 minutes.
Chadron State 66, Westminster 60
Westminster—Joey Andrews 13, Jarrett Jordan 13, Taylor Miller 9, Reme Torbert 9, Brandon Willardson 5, Isaiah Banks 5, Ryan Bell 4, Brian Howell 2. Totals: 25-53 (3-10) 7-13 60 points, 33 rebounds, 12 turnover.
Chadron State—Jacob Jefferson 18, Brady Delimont 11, Marcus Jefferson 11, Teddy Parham 11, KJ Harris 7, Deion Rhea 5, Kayden Sund 3. TotalsL 23-51 (11-28) 9-16 66 points, 30 rebounds, 11 turnovers.
Chadron State 34 32 ----66
3-pointers: CSC—Pardham 3, J, Jefferson 2, Delimont 2, Harris 2, M. Jefferson 1, Sund 1. West---Andrews, Jordan, Torbert, all 1.
Colorado Mesa 77, Chadron State 68 (2OT)
Colo. Mesa—Ethan Menzies 22, Marc Riniker 16, Reece Johnson 12, Georgie Dancer 10, Chris Speller 6, Trevor Baskin 6, Cooper Mattson 3, Jeret Schmelling 2. Totals: 26-55 (3-14) 22-30 77 points, 36 rebounds, 23 turnovers.
Chadron State—Deion Rhea 17, Marcus Jefferson 16, Teddy Parham 10, KJ Harris 9, Jacob Jefferson 7, Brady Delimont 6, Psalm Maduakor 3. Totals: 28-70 (9-32) 3-4 68 points, 37 rebounds, 25 turnover.
Colo. Mesa 28 28 9 12 ---77
Chadron State 33 23 9 3 ---68
3-pointers: Mesa--Menzies, Riniker, Johnson, all 1. CSC--Parham 2, Delimont 2, Harris 2, M. Jefferson 1, J. Jefferson 1, Maduakor 1.