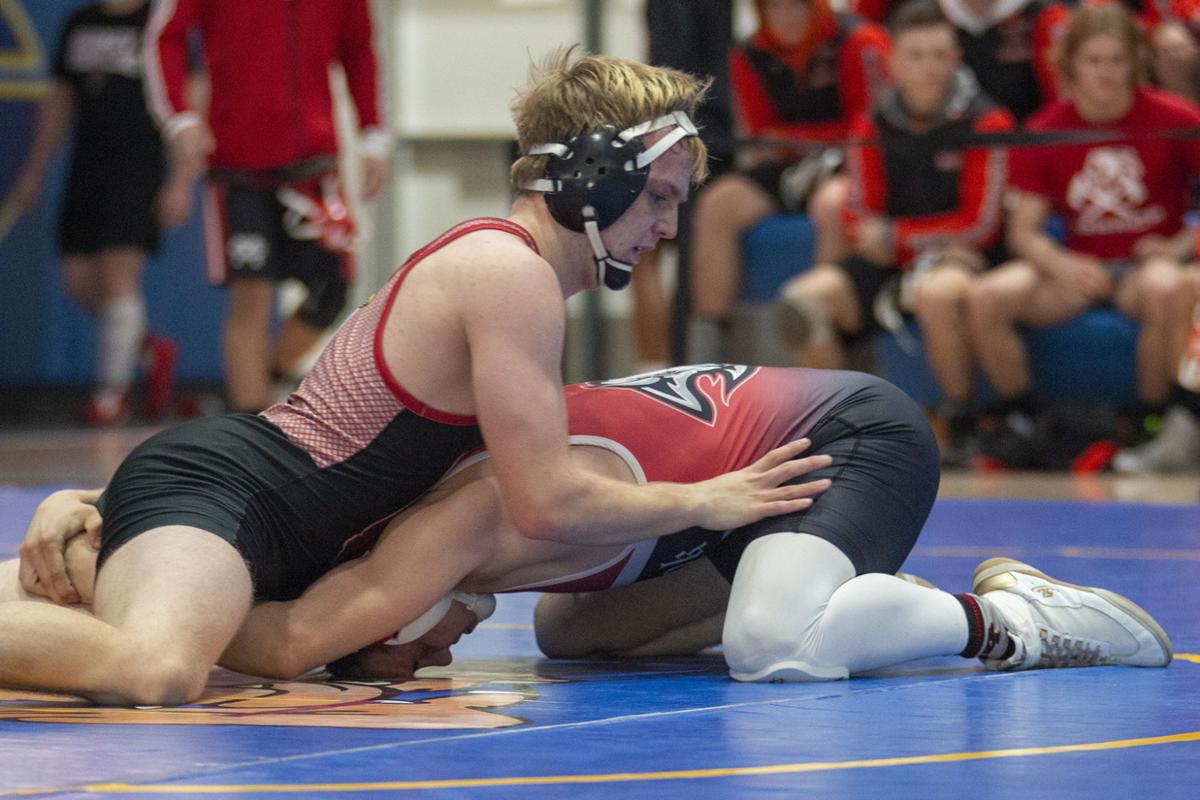 Out of six Chadron High wrestlers who competed in Districts Saturday, five will be going on to compete at State this Friday and Saturday at Omaha. It's the most qualifiers the school has had since 2015 when Chadron qualified five and was led by state champion Willy Cogdill.
Kade Waggener, wrestling at 182, was the only one of the five to get into a championship match, winning his first two matches by decision — 10-6 over Holdrege's Damian Smith in the Quarterfinal and 6-3 over Sidney's Brady Robb in the Seminfinal. Waggener battled hard against Kaleb Pohl of Cozad in the championship match, but was pinned at 4:54.
But though Waggener was kept from a top placing, his victory in the Semifinal was impressive in its own way as his opponent, Brady Robb, has been rated first or second in the weight division all season long.
Ryan Bickel, wrestling at 285, and Daniel Wellnitz, at 152, both placed third. Wellnitz is also the only repeat state qualifier of the five.
Bickel took all of his wins by pin, starting with a 1:34 fall over Sebastian Dones of Lexington in the Quarterfinal. His Seminfal match was a battle against Reid Steinbeck of McCook, though Steinbeck would eventually get the pin at 5:50.
The loss didn't slow down Bickel, however, as he took a 1:16 fall over Jaden Cervantes of Cozad in the Consolation Semifinal and a 31-second fall over Ethan Libich of Gothenburg to secure third place.
Wellnitz won by a 1:40 fall over Gothenburg's Brandon Schriner in the Quarterfinal, though McCook's Tate Felber just got the 4-3 win in the Seminfinal.
Wellnitz's next win was a 5-1 decision over Jack Myers of Broken Bow in the Consolation Semifinal, and he earned third place after a 5-3 Sudden Victory over Mychaia Moss of Scottsbluff.
Sawyer Haag, at 170 pounds, and Rhett Cullers, at 160 pounds, each placed fourth.
Haag won by Sudden Victory in the Quarterfinal, 3-1 over Trae Skiles of Ogallala, though himself lost to a 3-1 Sudden Victory in the Semis to Max Denson of Broken Bow.
Haag took a Major Decision 9-1 win in the Consolation Semifinal over Sam Holt of Holdrege before a 4-1 decision loss to Jayce Wilkinson of Scottsbluff in the third place match.
Cullers took his first win of the tournament in the Quarterfinal with a six-minute fall over Rene Corado of Lexington, but fell to Philip Halstead of Alliance, in 3:51, in the Semi.
In the Consolation Semifinal Cullers got a 3:11 fall over Gothenburg's Jameson Smith, but fell in 3:26 to Josiah Mobley of Scottsbluff in the Third Place Match
Looking at the openers for state, Waggener will face off against Braden Hanson of Blair, Bickel will be up against Neil Hartman of Omaha Concordia, Wellnitz is facing Cooper Spaulding of Norris, Haag will see Evan Canoyer of Waverly and Cullers will face Kobe Lyons of York.
Coach Jamie Slingsby said, "Our B-4 district is one of the toughest in the state and our guys take pride in knowing that they have really earned the trip to Omaha.
"Daniel Wellnitz is a returning qualifier so we hope he can use his past experience as an advantage. Kade Waggener had a huge win in the semifinals to secure his spot at the state tournament. Sawyer Haag showed his true grit after losing a heartbreaker in the semifinals and came back to earn his trip to state. As a staff we were excited to have two lower classmen in Ryan Bickel and Rhett Cullers qualify and gain valuable experience from the state meet."
NSAA Class B District 4 Results for Chadron
Quarterfinal - Connor Whiteley (SCO) 15-2 won by a four-minute fall over
Cons. Round 1 - Logan Stephens (OGA) 25-16 won by a 21-18 decision over
Quarterfinal - Wellnitz won by 1:40 fall over Brandon Schriner (GOT)
Semifinal - Tate Felber (MCC) won in a 4-3 tie breaker over Wellnitz
Cons. Semi - Wellnitz won by 5-1 decision over Jack Myers (BRO)
Third Place Match - Wellnitz won in 5-3 Sudden Victory over Mychaia Moss (SCO)
Quarterfinal - Cullers won by a six-minute fall over Rene Corado (LEX)
Semifinal - Philip Halstead (ALL) won by 3:51 fall over Cullers
Cons. Semi - Cullers won by 3:11 fall over Jameson Smith (GOT)
Third Place Match - Josiah Mobley (SCO) 31-16 won by 3:26 fall over Cullers
Quarterfinal - Haag won in 3-1 Sudden Victory over Trae Skiles (OGA)
Semifinal - Max Denson (BRO) won in 3-1 Sudden Victory over Haag
Cons. Semi - Haag won by 9-1 major decision over Sam Holt (HOL)
Third Place Match - Jayce Wilkinson (SCO) won by 4-1 decision over Haag
Quarterfinal - Waggener won by 10-6 decision over Damian Smith (HOL)
Semifinal - Waggener won by 6-3 decision over Brady Robb (SID)
First Place Match - Kaleb Pohl (COZ) won by 4:54 fall over Waggener
Quarterfinal - Bickel won by 1:34 fall over Sebastian Dones (LEX)
Semifinal - Reid Steinbeck (GOT) won by 5:50 fall over Bickel
Cons. Semi - Bickel won by 1:16 fall over Jaden Cervantes (COZ)
Third Place Match - Bickel won by 31-second fall over Ethan Libich (GOT)