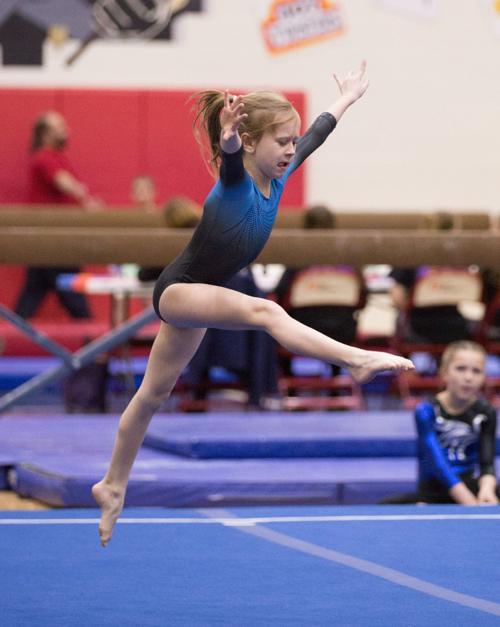 Panhandle Gymnastics sent seven gymnasts to Sturgis over the weekend for the Rushmore Invitational. The gymnasts competed at level two and level three like earlier in the year at their meet in Casper. Gymnasts compete at compulsory levels until level six. This means the routines are standardized and the gymnasts are judged on how well they can follow suit. Once at level six the gymnasts will begin to adopt their own, individualized routines.
Nearly every gymnast improved their individual scores from their first meet, despite the tough judges and the increase in competition. 373 gymnasts competed in the event. Panhandle Gymnastics really took a leap forward with its team scores. In Casper on Jan. 25 the level two's had a team score of 92.35. In Sturgis they combined for 98.2, which each gymnast scoring at least an 8.2 in a single event. Teagan Yale led the level two's with a 33.1 score, including an 8.8 floor routine. That 8.8 was the third highest number in the age nine division, and it helped Yale place fifth out of twelve gymnasts in her division all around.
Another level two, Aster Tewahade, excelled in the bars with an 8.7, good enough for third in her age nine division. Tewahade also scored a personal best on the beam with a 7.9. Kiley Strong was the gymnast who led the level two's on the beam with an 8.2. Strong competes in the ages 6-8 division, a division that will oftentimes see a high number of competitors. Kiley held her own and placed eleventh out of eighteen total gymnasts, and scored the most consistent numbers across the board for any Panhandle gymnast (8.2, 8.2, 8.2, 8.1).
Panhandle competed with four gymnasts in level three. There were ten teams in level three. Alexis Green placed third out of eight gymnasts in the age 11+ division. She scored an 8.75 on the bars which placed her second in that event, and posted personal best across the board. Her most improved event was the beam, by far. She scored an 8.3 which was a +1.8 improvement on her Casper score. Elaina Strong took fourth on the day in 11+. She scored an 8.5 on the beam, medaling her third in that event and marked a major improvement in the beam for her. The focal point of the day for Crimsun Hotz was her 9.45 in vault. This gave her the gold medal in that event for ages 11+. Kourtney Hawk showed improvement in three out of four events. Her high point of the day was her 7.75 beam score, which placed her sixth in that event.
Rapid City Gymnastics won the level two event with a 109.150, and Spearfish Gymnastics won the level three with a 109.850.
This event was officially the third of the year for Panhandle Gymnastics. Its first was at Casper and the second was in Rock Springs, WY. Because of road closures and weather only Crimsun Hotz attended the Rock Springs event. She scored 8.5 vault, 8.8 bars, 7.5 beam, and 9.2 on the floor. These marks were good enough for first in her division (11+) in all around, and placed her fifth in overall all around.
Panhandle Gymnatics will be hosting its 2020 Spring Fest on April 4. The event will be at their gym on 132 W 3rd St in Chadron. This event will provide an opportunity for area gymnasts to show off their skills in a meet-like atmosphere. Athletes can sign up at Panhandle Gymnastics. It is also open for the community to come and watch the progress all the Panhandle gymnasts have made. Preschool will run from 11-11:30am, Level 1 12:00-1:00, Level 2 1:00-2:30, Boys/Ninja 3-4:00, Level 3 & 4 5:00-7:00 (Adults $5, Children $2, Five and Under Free).
You have free articles remaining.
Gymnast      Level     Vault      Bars      Beam      Floor     AA      Place      Team Scor
Kiley Strong      2        8.2        8.2         8.2        8.1      32.7      11        98.2/4th
Aster Tewahade 2       8.55       8.7         7.9        7.25    32.4        8
Teagan Yale       2        8.4       8.0          7.9         8.8     33.1        5
Eliana Strong     3        8.7       8.6          8.5        7.65   33.45       4       101.3/8th
Crimsun Hotz     3       9.45     8.35          7.2         8       33           5
Alexis Green      3        9.05     8.75         8.3         8.2    34.3         3
Kourtney Hawk  3        8.65      8.0          7.75        7.4    31.8        7
Be the first to know
Get local news delivered to your inbox!