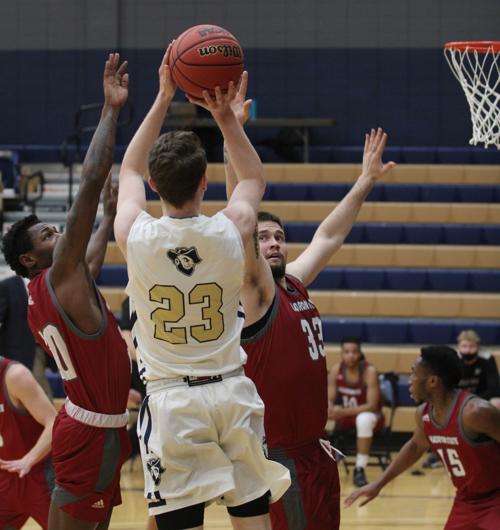 Kolten Mortensen, a 6-foot-8 junior, nailed a 3-pointer with less than a second remaining in overtime to give South Dakota Mines a 60-59 victory over Chadron State in the King Center in Rapid City on Thursday night in Rocky Mountain Athletic Conference action.
The Hardrockers, who also nipped Black Hills State 79-78 on Saturday night, are now 6-4 for the season and Chadron State is 3-4.
Although both teams were below par offensively, the CSC-Mines game was a nail-biter most of the way. Chadron State's biggest lead was 6-2 after four minutes had been played. The Hardrockers' biggest lead was 32-24 at halftime after they tallied nine of the final 12 points in the half.
The Eagles opened the second half with a 7-0 run to get back in the game. Mines went ahead 51-46 with a follow shot by Brannagh Walsh with 1:50 to play, but Chadron State tied the score on a 3-pointer by Brady Delimont with 1:39 to play and a turning jump shot by Deundra Roberson with 46 seconds left.
The Hardrockers had a chance to win the game down the stretch, but missed a free throw and a dunk attempt to send it into overtime.
Chadron State took a 58-55 lead with 25 seconds left in OT when Psalm Maduakor grabbed his 10th rebound of the game after a teammate missed a free throw, was fouled and made both of his shots from the line.
The Hardrockers' Alejandro Rama immediately dribbled the length of the floor for a layup to cut CSC's lead to one point.
With 12.6 seconds left, Chadron State's Teddy Parham, the game's leading scorer with 24 points, was fouled. He made the first free shot, but missed the second. The Hardrockers got that rebound, and at the other end of the court, found Mortensen open on the left wing for his winning trey.
Mortensen led the Hardrockers with 16 points while Rama tallied 14 and both Wilfred Dickson and Brevin Walter added eight.
Parham's 24 points included going four of eight on 3-pointers. CSC center Jacob Jefferson scored 12 points before leaving the game with a knee injury midway through the second half and never returning. Marcus Jefferson added eight points for the Eagles. Both Jeffersons had seven rebounds, helping the Eagles to a 39-35 edge off the glass.
Chadron State shot 41 percent (23-56) from the field, was five of 21 from 3-point range and just eight of 17 from the free throw line, costing the Eagles the victory more than anything else.
Mines shot 42 percent (24-57) from the field, including six of 19 from long range, and went six of 11 at the line.
Chadron State--Teddy Parham 24, Jacob Jefferson 12, Marcus Jefferson 8, Deundra Roberson 6, Brady Delimont 5, Psalm Maduakor 4. Totals: 23-56 (5-21) 8-17 59 points, 39 rebounds, 12 turnovers.
S.D. Mines--Kolten Mortensen 16, Alejandro Rama 14, Brannagh Walsh 8, Wilfred Dickson 8, Brevin Walter 6, Josiah Gardiner 5, Keagen Smith 3. Totals: 24-57 (6-19) 6-11 60 points, 35 rebounds, 14 turnovers.
Chadron State 24 27 8 ----59
S.D. Mines 32 19 9 ----60
3-pointers: CSC--Parham 4, Delimont 1. SDM--Mortensen 2, Walsh 1, Gardiner 1, Smith 1.