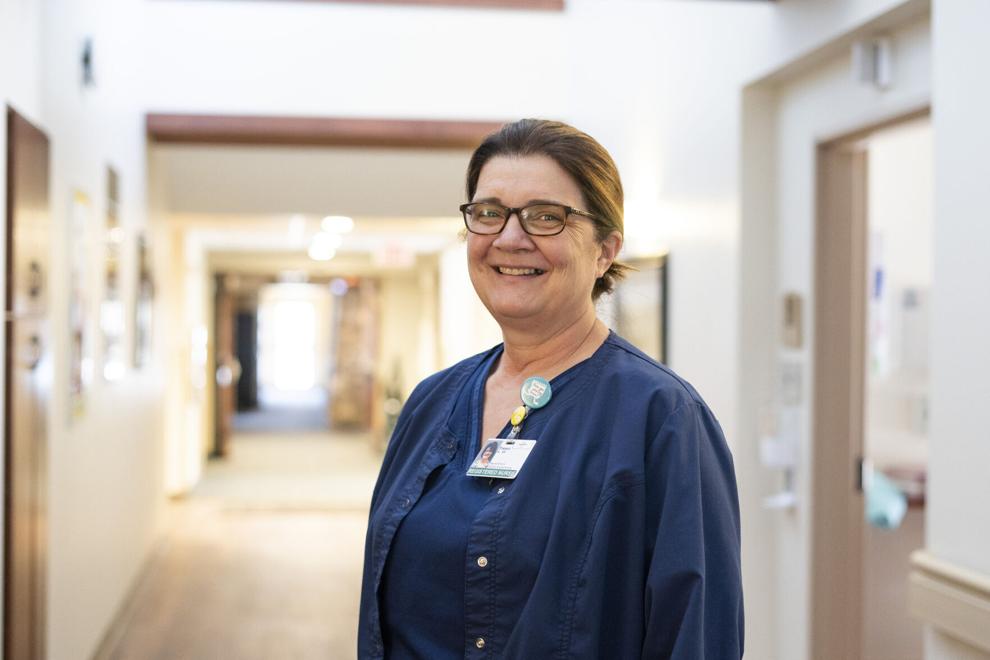 With gentle compassion, hospice nurses provide dignified care and comfort for patients during the most vulnerable time of their lives. Technically defined as end-of-life care, hospice can be activated for patients who have been given life expectancies of six months or less.
"Hospice isn't a place; it's a philosophy," says Treava Holbert, a registered nurse who works on Monument Health's inpatient Hospice House unit in Rapid City. "It addresses every aspect of a dying person — not just their physical symptoms, but their emotional health and spiritual needs as well."  
The team is made up of nurses, chaplains, social workers and grief counselors to ensure patients receive integrated services. Hospice care can be delivered in hospital and long-term care center settings, or even in the patient's own home.
"It can be scary to talk about the end of life," says Tina Haugen, an in-home hospice nurse with Monument Health. "The sooner we can intervene and start working with patients, the more we can do to ease their process and make it more peaceful for them."
Many people falsely believe that hospice hastens death, providers only administer morphine to keep patients sedated, or that the hospice patient has simply lost their will to survive. In actuality, patients who receive hospice or palliative care often live longer on average than those who don't, and enjoy a higher quality of life in their final days.
Both Holbert and Haugen find being able to form relationships with the patients, their families and caregivers highly fulfilling, but also the most challenging part of the work they do.
"We get close to our patients and learn things about them, knowing that they're going to pass away," Haugen points out.
"The patients understand what's happening to them," Holbert adds. "For us, it's an honor to be invited into sharing this sacred journey and time with them."
Although many of their duties center heavily on providing comfort measures, hospice nurses still rely on strong practical skill sets.
"It helps to have an in-depth medical nursing background, because you need to know the workings of diseases and what to expect as they proceed," Holbert says. "Hospice nurses aren't focusing on curative aspects; we're more about symptom management, education and staying level-headed in a crisis situation."
"Hospice work isn't for everyone," Haugen agrees. "It's a different kind of health care. In clinics and hospitals, we're expecting patients to get better and hoping for good outcomes. Our goal in hospice is just to make them comfortable. People are dying every day, so there will always be a need for hospice nurses."
People often ask Holbert how she's able to do her job knowing that her patients will pass away.
"I heard someone once say that hospice is like working in heaven's waiting room," she says. "That's the privilege we enjoy as hospice nurses."
Headquartered in Rapid City, the community-focused Monument Health system serves 12 communities across western South Dakota through five hospitals, eight specialty/surgical centers and more than 40 medical clinics. For more information, visit monument.health.
---
This content was produced by Brand Ave. Studios. The news and editorial departments had no role in its creation or display. Brand Ave. Studios connects advertisers with a targeted audience through compelling content programs, from concept to production and distribution. For more information contact sales@brandavestudios.com.