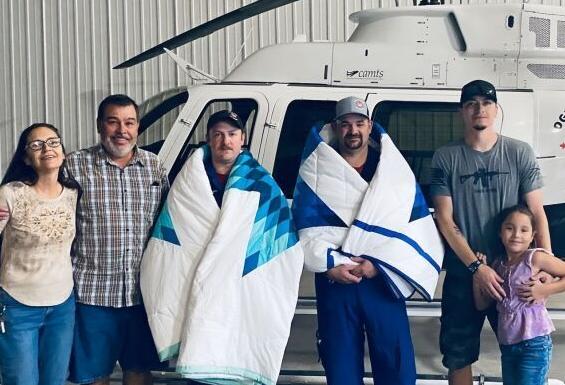 One day while working out in the gym, Thomas Keller dropped a barbell loaded with 315 pounds on his chest. At first he thought he was fine. But within minutes, Keller set out on a medical journey that almost cost him his life.
"The bar slipped out of my hands and landed on my chest," Keller said, who works as a correctional officer at the Rosebud Adult Correctional Facility near Mission, South Dakota. "I caught the bar after it bounced off my chest, and I stood up and racked it. Another officer asked if I was all right, and I just told him I needed some water and I'd be fine. I walked around the weight room a little bit and I remember it getting really dark, and I went to a knee."
A stroke of luck
Keller's co-workers called an ambulance, which transported him to the Indian Health Service's Rosebud Unit Emergency Room. He had fractured his sternum and punctured his heart — a serious condition that would need specialized care. They made the call to arrange for transport to Monument Health Rapid City Hospital.
The Oglala Lakota Air Rescue (OLAR) Service had a helicopter that had just fueled up in Winner, South Dakota, on their way home from Sioux Falls. It wasn't a routine stop for them, so they were nearby purely by chance. The crew landed at the Rosebud Emergency Room before they had a full grasp of Keller's injury. Once they understood the severity of the situation, they knew they had to get Keller in the helicopter and transport him to Monument Health as quickly as possible. 
Racing against the clock
When the helicopter landed on Monument Health's helipad, the team took Keller directly to the surgical suite. Kalyan Vunnamadala, M.D., a cardiothoracic and vascular surgeon at the Heart and Vascular Institute, had already been briefed by the Rosebud Unit Emergency Department. He understood that every minute spent getting Keller into surgery could be the difference between life and death.
"I spoke with the emergency room doctor at Rosebud, who said there was fluid around Mr. Keller's heart. My concern was that this was blood pushing on his heart," Dr. Vunnamadala said. "We had a team waiting in the operating room already, including our anesthesiologist and our perfusionist who runs the heart-lung machine for us. All of our OR team was waiting, and as soon as Mr. Keller came in the room we knew time was of the essence."
Keller's injury had caused pericardial effusion — a buildup of fluid inside the pericardium or lining around the heart — that results in excess pressure on the heart. Dr. Vunnamadala performed a median sternotomy, which involved opening the breastbone in order to access the heart, and then cut open the pericardium to relieve the pressure.
"I initially thought I had just broken a rib. I didn't know it was that severe. But when I saw that many doctors suited up and locked in, I knew it was more serious," Keller said. "Once they put the gas on my nose, I remember I kind of had a sigh of relief. It felt like my fight was done. It was in this guy's hands now, and I felt like it was going to be okay."
Keller was close to death. "The reason he's alive has a lot to do with all the medical teams involved in his care. But it also has to do with the team that saw him in the emergency room who made that phone call, and having the flight crew bring him to us immediately. Thank God the OLAR team was close because he would not have made it even another 20 minutes. That crew gave him a chance at life," Dr. Vunnamadala said.
Oglala Lakota Air Rescue
Oglala Lakota Air Rescue was founded in 2019 and is the only Native American-owned air rescue service in the country. They partner with Apollo MedFlight, which provides medical air transport in 11 states, including South Dakota. Together, they provide emergency air rescue services to the Pine Ridge Indian Reservation in southwestern South Dakota, as well as other rural tribal lands throughout the state. 
"The mission of OLAR is to provide immediate access to life-saving care in the communities we serve," explained CEO Wade Black. "We appreciate being recognized for our role in Thomas' amazing story, and are proud of the professionalism and focus on patient care that our teams provide day in and day out."
Patient of the Year award
MedEvac Foundation International's mission is to advance all aspects of critical care medical transport worldwide through the support of academic research, continuing education and outreach benefiting our patients, first-responders and their families. Every year, they recognize an emergency medical transport patient whose survival and recovery can be directly attributed to the transport and intervention by emergency medical transport teams.
They selected Keller as their Patient of the Year for 2021 for his experience with Oglala Lakota Air Rescue and Monument Health. Click here to watch the video.
This content is provided for informational purposes only by Monument Health and is not a substitute for professional medical advice or treatment. Please consult your healthcare provider for medical advice. Any views, thoughts or opinions in this paid post belong solely to Monument Health and do not represent the views of Brand Ave. Studios or its parent company.
---
This content was produced by Brand Ave. Studios. The news and editorial departments had no role in its creation or display. Brand Ave. Studios connects advertisers with a targeted audience through compelling content programs, from concept to production and distribution. For more information contact sales@brandavestudios.com.