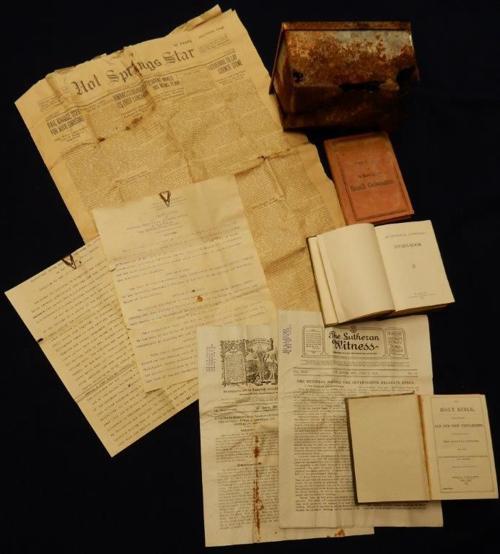 On Sunday afternoon of Oct. 7, 1923, a tin box measuring only 6 x 7 x 4 inches, with items believed to be of interest a century later, was placed within the cornerstone of Bethesda Lutheran Church.
This old church has since been torn down in 2016. The time capsule was saved for the unveiling of its contents at Bethesda's centennial celebration this summer. Articles in the tin box provide a glimpse at a time 100 years ago of Bethesda Lutheran Church and the Hot Springs community.
Many items were crowded into the small metal box. Although the box is severely rusted out at the bottom and at a corner, its contents had no damage.
Inside were three small books consisting of the Holy Bible, Lutheran Hymnal and Martin Luther's Small Catechism. At that time, books were often printed in small size to be less expensive and easily carried.
As an addition to the books, inside was the current Lutheran Witness magazine and its German language counterpart, Der Lutheraner. Also were Bethesda's Constitution and Historical Notes by Pastor E. E. Foelber, its first pastor and later to become President of the Lutheran Church-Missouri Synod and speaker at Bethesda's 50th anniversary in 1969.
The Lutheran Witness reported about the national convention in Ft. Wayne, Ind. where it kept four secretaries busy typing the day-to-day reports. At mealtimes, area Lutheran churches efficiently fed a thousand delegates during 10 days at a cost of $10,000 and where a megaphone was used to hear announcements.
It commented everything went smoothly, but in the future it would be nice to have electric fans for the comfort of secretaries.
The Bethesda Evangelical Lutheran Church's Constitution was typed in both English and German (later German was discontinued, partly due to it being conceived unpatriotic during war-time). It listed requirements for church membership as being baptized, accepting the Old and New Testaments as the rule of faith and life, partake regularly of the Lord's Supper and not a member of a secret or organization conflicting with the Word of God.
Two pages of notes by Foelber mentioned the parsonage was completed Nov. 17, 1920, a year after Bethesda church was organized. On the day of dedicating the cornerstone, Bethesda church would be constructed at a cost of $8,736.
You have free articles remaining.
Foelber told of his mission work starting initially in Ardmore, as then a growing town, but with many tourists traveling to Hot Springs to be healed in its waters and breathing its pine air that our area of Hot Springs proved a better prospect.
The Hot Springs Star newspaper of that week, Thursday, Oct. 4, 1923 was folded tightly inside the time capsule.
One article reported the dedication of the new Bethesda Lutheran Church. Of interest from that day's paper, it wrote of some concern about the Ku Klux Klan to curb a Jewish take-over of the U.S. (This was in the era of World War I).
An entire page gave local news from areas and towns nearby such as Buffalo Gap, Slate River Valley, Minnekahta, Oelrichs, Harmony, Mountain View and Oral. It mentioned an Oral family that traveled by train to Buffalo Gap so their children could attend school because the Cheyenne River was too high to cross with a team of horses.
Another story cited recent loss of 62 feet to the bridge at Edgemont being washed downstream, so automobiles were permitted certain times of day to cross the Cheyenne River railroad bridge by straddling the rails. But it noted many automobiles got wedged in the rails of sidetracks.
Attendance at Battle Mountain Sanitarium listed members on their present rolls from the Civil War at 226; Spanish War at 287; and 181 from the World War.
Advertisements in the Star quoted $2 for a ton of coal. Black Hills Auto & Garage Co. advertised an Oakland "6" five passenger touring car for $945.
Those needing healing could receive scientific massages in the Minnekahta Bath House by Prof. T. F. Reilly, formerly a healer at the Sister's Hospital in Hot Springs.
Intriguing for our times as Hot Springs was becoming established, an article directed people to write on signs, letterheads, postcards, railway advertising and in every other way that our town is "Hot Springs, in the Black Hills of South Dakota", lest we unwittingly offer free advertising to Hot Springs, Arkansas.
"Advertising costs money; let us not devote any of ours to the exploitation of another resort".