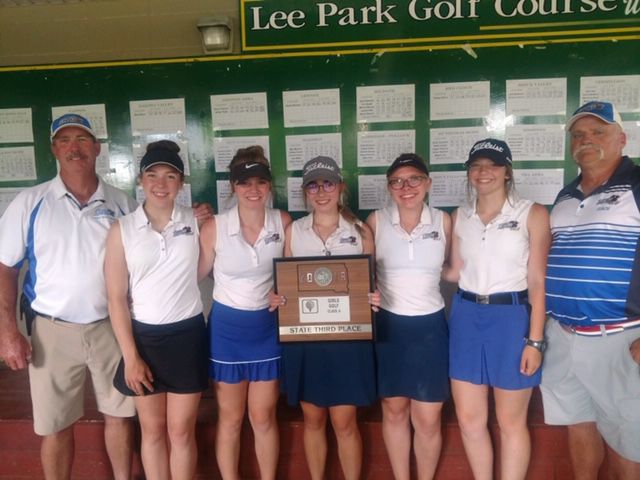 ABERDEEN- The Hot Springs Lady Bison capped their successful season with a third place finish at the South Dakota State Class A Golf meet held June 3 and 4 in Aberdeen at the Lee Park Golf Course. 
In total, 32 schools were represented with a total of 94 golfers.
The 2019 team championship went to the West Central girls with a four person 36 hole score of 703, second was Sisseton-717, third was Hot Springs-730, fourth was Madison-743 and fifth was Parkston-744.
The Class A Medalist honors went to the Defending State Champion, Belle Fourche's Payson Birkeland, with a 36 hole total of 153 or 9 over par.
"She represented our west river golfers with class," said Hot Springs coach Dave Merrill. 
Hot Springs was led by Aryona Watts -165-8th place, Malory Olstad-176-12th place, Madilyn Palo-189-29th place, Sydney Olstad-200-49th place and Jessi Schroeder-217-66th place.
Hot Spring shot their best round of the year on day two, with a four person 18 hole score of 356.
"On behalf of myself, Jay Miller and Barry Vollmer, we are very proud of this team!" said Merrill.