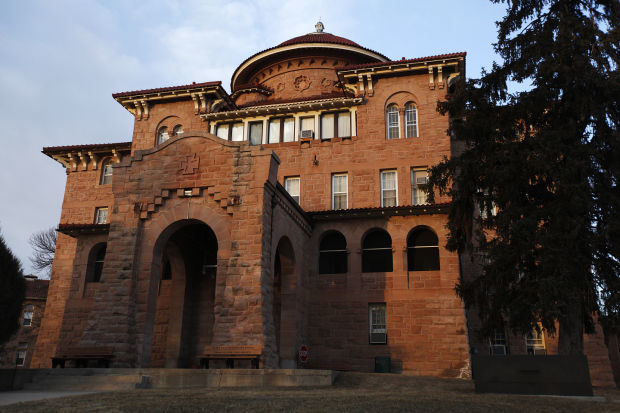 With ongoing staffing shortages of qualified doctors, nurses and laboratory and radiologists, the VA Black Hills Health Care System hospital in Hot Springs has decided to shorten its Urgent Care clinic hours of operation.
According to a VA news release Thursday, the Hot Springs Urgent Care clinic will be open 7 a.m. to 7 p.m. Monday through Friday, as of Nov. 4, 2019.
The Urgent Care clinic in Hot Springs had been open 24 hours per day, seven days a week, 365 days per year. Urgent Care, to be used to treat non-life threatening health issues that can't wait for a patient's regular provider, will also follow the same schedule as primary care and close on federal holidays.
The change does not apply to the VA Black Hills Health Care System hospital at Fort Meade, which maintains a 24/7/365 Emergency Department.
Enrolled veterans received notification of the Hot Springs Urgent Care change of hours of operation in a letter dated Oct. 21.
Continued difficulties in hiring and retaining qualified physicians nurses and ancillary services, such as laboratory and radiology services, made the reduction of hours a necessity, said Sandra Horsman, VA Black Hills Health Care System Director in a release.
The VA hired a recruiter, offered recruitment incentives and brought traveling nurses in to fill the void, she said.
"It's not enough to just put nurses or hospitalists in the seat. You've got to have time to train them and then evaluate their competencies. They need time to get used to the processes, and the types of veteran and medical issues that come in," she said.
Horsman said competition for staffing is keen in the Southern Hills, with the Fall River County Hospital, a Regional Health clinic and the State Veteran's Home all in need of skilled nurses.
"That's a lot of skilled nursing requirement for a small community in comparison," she said.
The Urgent Care clinics will continue to provide the highest level of veteran care and maximize the available community resources under the MISSION Act 2018, the release stated.
"If this is a life-threatening event, veterans need to get to their local Emergency Departments," she said. "It is especially important now, because they are used to coming to the Urgent Care as an emergency room."
"We encourage Veterans to use our Call Center for health-related questions and triage at 1-877-339-6837 and same day access in Primary Care and Mental Health and during a medical emergency, seek immediate medical attention without delay," she said.
The letter explained, Veterans do not need to check with VA before calling for an ambulance or going to an Emergency Department. A claim for emergency care will never be denied based solely on VA not receiving notification prior to seeking care.
It is important to promptly notify VA after receiving emergency care at a community Emergency Department. Notification should be made within 72 hours of admission to a community medical facility.
This allows VA to assist the Veteran in coordinating necessary care or transfer and helps to ensure that the administrative and clinical requirements for VA to pay for the care are met.
Emergency Room notification can be made by calling VA Black Hills Health Care System at 605-745-2000.
Be the first to know
Get local news delivered to your inbox!