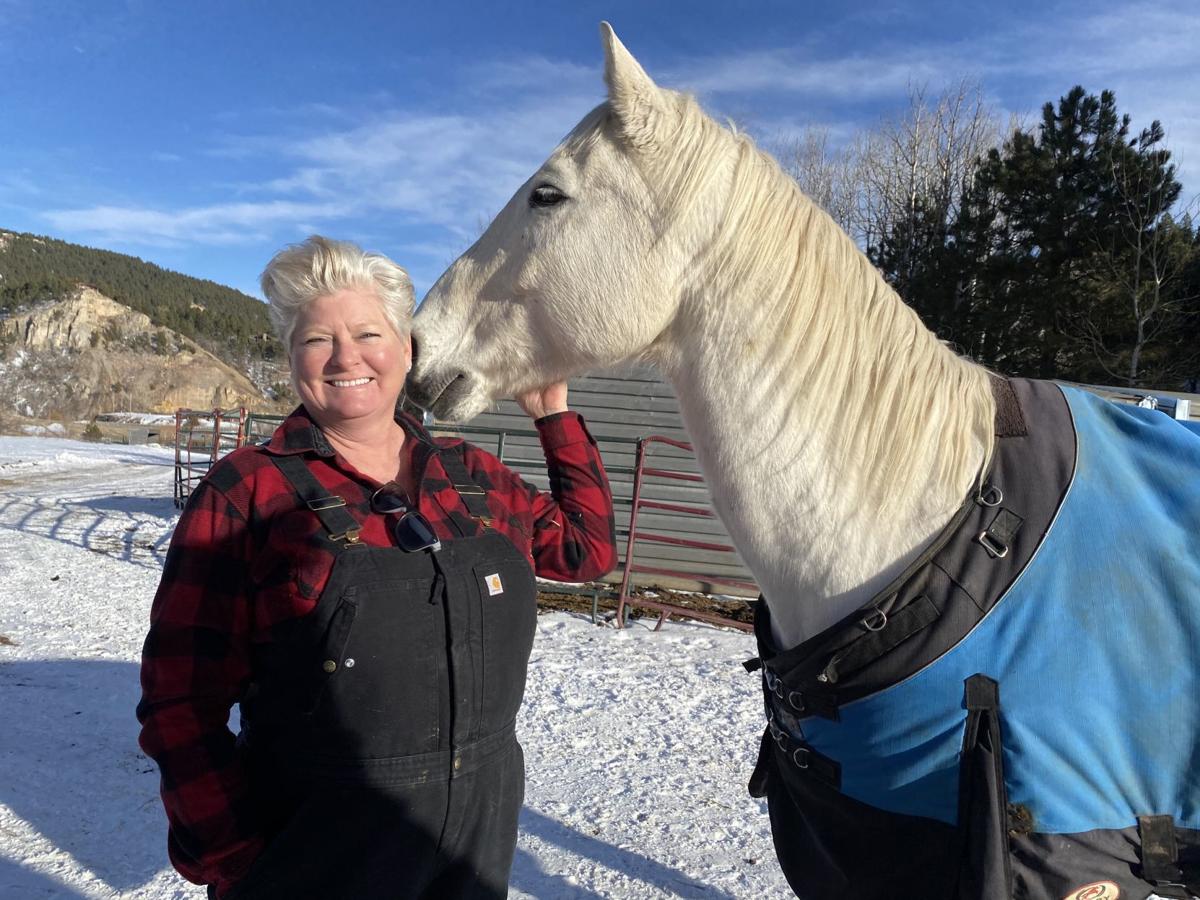 While married to Tony Curtis, the veteran actor who appeared in more than 100 films and whose career spanned six decades, Jill Curtis Weber traveled the world, attended Hollywood galas and, in their quiet time, the couple fell in love with an HBO original television series titled, "Deadwood."
Today, the equestrian-lover lives in the fabled Wild West town with her husband, Todd, drives stagecoach on Deadwood's historic Main Street in the summer months, and is spearheading the nonprofit Shiloh Horse Rescue and Sanctuary, which she and Curtis founded in 2003 as "a place for horses in need."
Jill was born in Michigan and raised in San Diego, the daughter of a Navy pilot who became an emergency room doctor and a mother who worked as a nurse. She met Tony Curtis at a Los Angeles restaurant in the 1990s, and the two began dating. They were together 16 years and were married for 12, until the actor's death on Sept. 29, 2010 in Las Vegas.
"We got along perfectly and we were very well matched," she said. "Together, we traveled the world. Tony and I used to watch the show, "Deadwood," and I know he would love the fact I live here now."
In 2012, she met Todd Weber, who toured the country working with the Professional Bull Riders. They were married a year later, and together, the pair has carried on her passion for rescuing aging and special needs horses.
Last March, the couple relocated to Deadwood, an "adventure" that involved 15 people and seven trailers carrying 35 horses, as well as a menagerie of five pigs, five goats, dogs and cats. Jill's mother, Sally VandenBerg, joined them in the move and helps out at Shiloh Horse Rescue.
We sat down with Jill recently to discuss her life, her loves, and what led her and Todd to relocate from the desert Southwest to the Black Hills of South Dakota.
Q: You were married to actor Tony Curtis, with whom you began Shiloh Horse Rescue in 2003. What was it like being married to one of America's premiere actors and what led the two of you to start this nonprofit organization?
A: It was wonderful being married to him because he opened me up to a whole new life that I would have never seen. We traveled the country and the world and met so many wonderful people. But I was always a horse person since I was very little. I brought my horse to Vegas and one day in my 30s, I was watching Oprah Winfrey's show and she had an episode called, "Use Your Life." She encouraged viewers to volunteer and I looked up horse rescue online. That night I told Tony, "I'm going to start a horse rescue, and he responded, `OK honey, I think that would be great.'" A month later I got my first rescue horse. Next thing, I leased land and a few years later, he bought me 40 acres outside Las Vegas and we expanded. We rescued over 650 horses and we've put over 450 into adopted homes. It makes me feel good. I actually did it. I went out and made a difference.
Q: Tell us about Shiloh Horse Rescue. What's your ultimate goal, and how many horses do you currently have?
A: Right now, we have about 40 horses and various other animals. We're actually in Deadwood and we want to open to the public next spring as a place where tourist families that come into town can interact with rescued animals. These animals are living out their lives here and I think it's important for people to see that — to see older animals or special needs animals that can teach kids about responsibility and compassion.
Q: You formerly lived in Las Vegas. What attracted you and Todd to Deadwood of all places?
A: Once we met, I got him to watch the HBO "Deadwood" series because it's such a great show. After we got married in period costume at our ranch in Vegas, we began selling decorated horseshoes as a fundraiser, so we were traveling the country. At one point, we said, "Where should we go this summer?" We thought, let's at least stop in Deadwood and check out the town. We ended up selling our horseshoes at the Days of '76 rodeo, and the next thing we know we're in the Days of '76 parade riding in a wagon. At that point, we said we have to at least buy a second home in Deadwood because we love the history. A couple years later, we came back for the Sturgis rally and were going to stay one night. We stayed three months and closed on a house. We absolutely love it.
Q: Has the town lived up to your expectations and what do you enjoy most about being in the Black Hills?
A: What we really enjoy about being in the town is all of the new friends we've made. We joined the Elks and the Lions and we go to the city council meetings and the Main Street initiative meetings and we enjoy being involved. Our mini-ponies have been everywhere. A week ago, they were at the opening of the town's new Outlaw Square and tonight they're visiting the Saloon No. 10. Todd even joined Deadwood Alive as one of their western re-enactors. We've embraced the town.
Q: What can visitors expect to experience at Shiloh Horse Rescue in 2020?
A: To begin with, it will be interacting with many of our personable animals, allowing kids to brush horses and maybe feed the pigs and goats. Eventually, we want to do horse and pony rides, and be able to do some wagon rides on the property. In winter, we'll likely be offering sleigh rides. For now, we'll open our store on Main Street in January. Today, Deadwood is our home. I feel so at home here. Our days are as full as one could want them to be.